Dear MOMENTICA users,
This is a notice - The First Moment of LE SSERAFIM - Phase 3. Mint Your Digital Souvenir event.
You can mint the LE SSERAFIM Digital Souvenir made in April, 2022 on MOMENTICA and cherish it permanently.
Recipient: All FEARNOTs who succeeded in 'Phase 1. Creating Digital Souvenir' from April 4th to 9th, 2022
Period: December 20, 2022 12:00 (KST) - December 31, 23:59 (KST)
How to participate
Please prepare in advance!
If you are not a member of MOMENTICA yet, please download the MOMENTICA App and complete sign-up.
STEP 1
Check out the Digital Souvenir you have created on My Page of le-sserafim.com, and select the Digital Souvenir you want to mint.

STEP 2
Register a code by clicking the "Enter Code on MOMENTICA" button.

STEP 3
Click the "Use Now" button after code registration is completed.


STEP 4
Check the information of the TAKE to be minted, and purchase for free.

STEP 5
Enjoy the TAKE you have minted.
You can always check you TAKE in My Collection.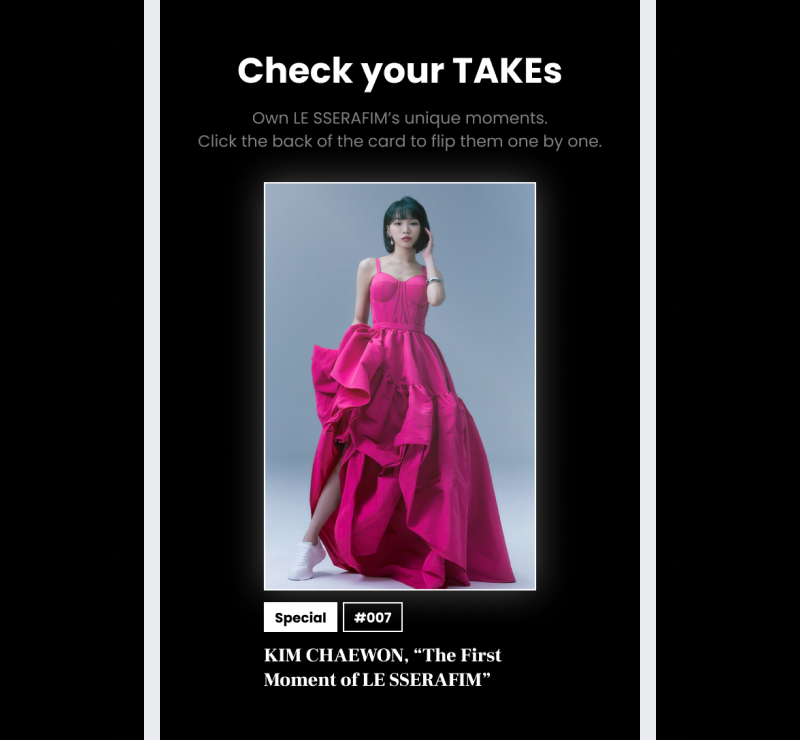 Notice
This event is only available to those who participated in the LE SSERAFIM Digital Souvenir event, which was held from April 4th to 9th, 2022.
'Phase 3. Mint Your Digital Souvenir' is free to participate, and anyone over the age of 14 can participate.
Event codes registered on MOMENTICA cannot be reused.
Users of the service have only the right to use the digital souvenir for the purpose of access and viewing according to the method set by this site, and the right to mint and keep permanently through this event, and have no rights including ownership of photos, copyrights and other intellectual property rights, and portrait rights that are subject to a digital souvenir.