February 24, 2023
*As the FREE TAKE Giveaway ended, all TAKEs can be collected through PAID PURCHASE ONLY.
Hello!
This is MOMENTICA, a world of moments you can collect!
SEVENTEEN's first digital collectible drop will start on February 23, 2023.
Different concepts will be dropped every week, and you can find various new SEVENTEEN's moments.
[🎁Special Limited Event🎁]
To give more joy to everyone. There will be a 1 FREE TAKE Event everyday, please join!
※ May end earlier if all TAKEs sell out.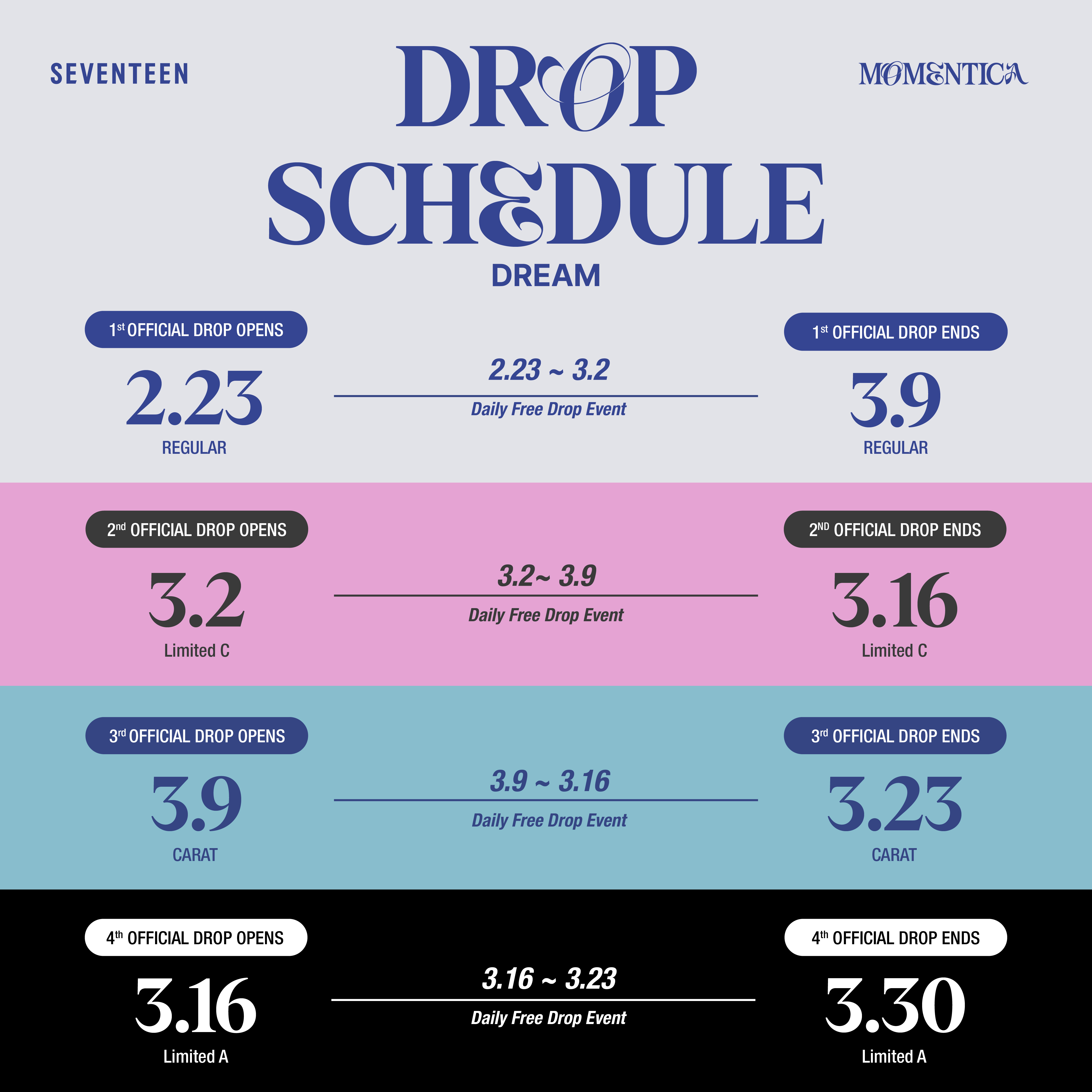 [SEVENTEEN DREAM Official Drop Schedule]
1st Concept : 'Regular'
- Official Drop Period: February 23, 2023 12:00PM to March 9, 2023 11:59AM (KST)
- FREE TAKE Event Period: February 23, 2023 12:00PM to March 2, 2023 11:59AM (KST)
2nd Concept : 'Limited C'
- Official Drop Period: March 2, 2023 12:00PM to March 16, 2023 11:59AM (KST)
- FREE TAKE Event Period: March 2, 2023 12:00PM to March 9, 2023 11:59AM (KST)
3rd Concept : 'Carat'
- Official Drop Period: March 9, 2023 12:00PM to March 23, 2023 11:59AM (KST)
- FREE TAKE Event Period: March 9, 2023 12:00PM to March 16, 2023 11:59AM (KST)
4th Concept : 'Limited A'
- Official Drop Period: March 16, 2023 12:00PM to March 30, 2023 11:59AM (KST)
- FREE TAKE Event Period: March 16, 2023 12:00PM to March 23, 2023 11:59AM (KST)
Upcoming Drops