Hello,
This is MOMENTICA, a world of moments you can collect.
The practice of 'PHONEKKU' has long been a creative way among fans to express their love and support for artists. Now, with MOMENTICA, you can enhance your experience by setting TAKE's in your Collect Book as a widget or as a lockscreen on your phone!
Style your phone with TAKEs and enjoy your collection, anytime, anywhere!
To bring you greater joy, we present to you a new TAKE PHONEKKU Challenge for SEVENTEEN!
Lucky participants may win never-before-seen 'Limited C' TAKE of SEVENTEEN—not just one, but of all members!
Set your TAKE of SEVENTEEN as your widget or lockscreen, then share to show the world your masterpiece!
TAKE PHONEKKU Challenge
Participants who upload screenshots of their phones glammed up with TAKEs of SEVENTEEN will be entered into a lottery. Lucky winners will be issued limited edition TAKEs of SEVENTEEN, featuring never-before-seen photos from 'Limited C' concept.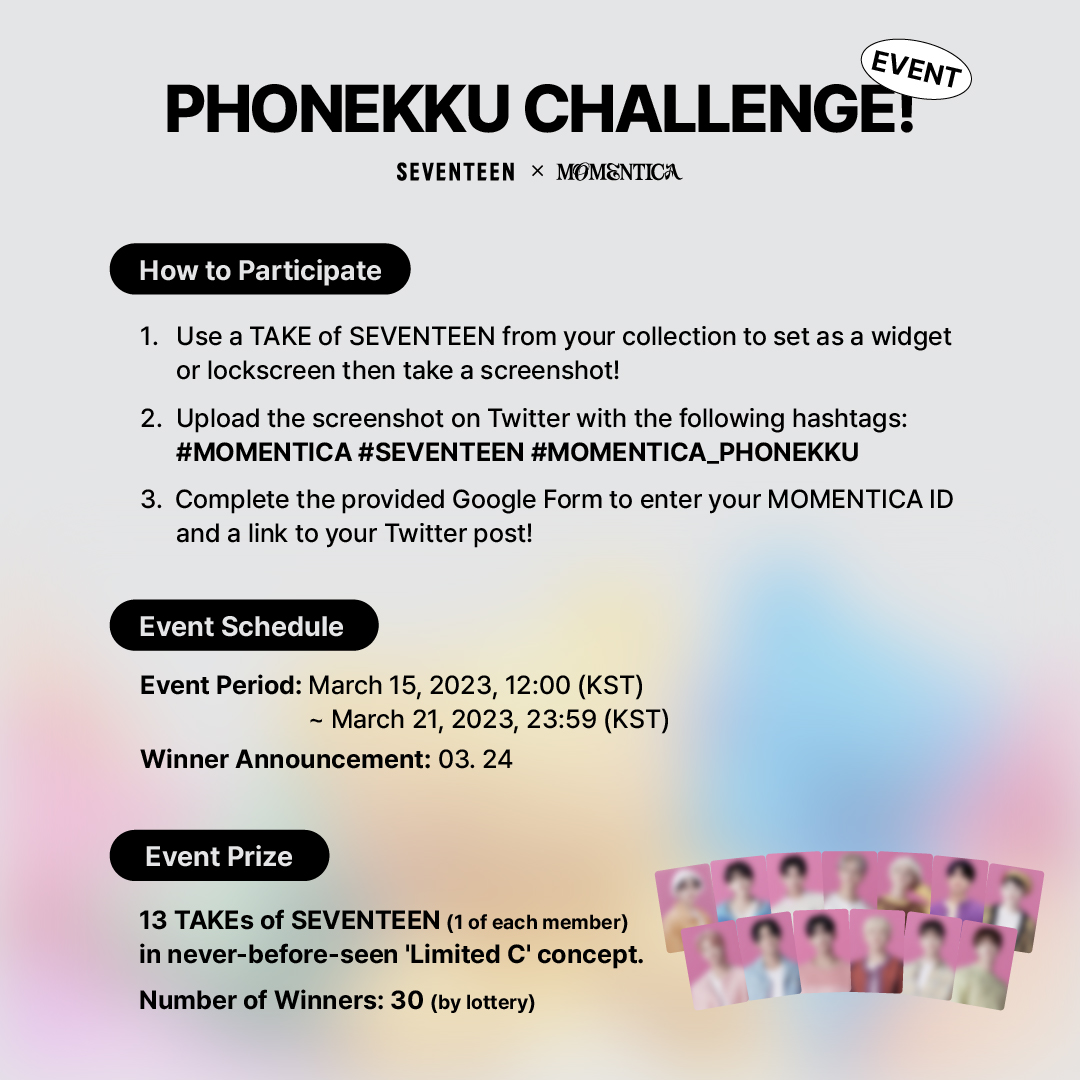 Event Period

March 15, 2023, 12:00 KST to March 21, 2023, 23:59 KST

How to Participate
① Use a TAKE of SEVENTEEN from your collection to set as a widget or lockscreen on your phone, then take a screenshot! (How to set your TAKE as a widget or lockscreen on your phone >)
② Upload the screenshot on Twitter with the following hashtags: #MOMENTICA #SEVENTEEN #MOMENTICA_PHONEKKU.
③ Complete the provided Google Form to enter your MOMENTICA ID and the link to your Twitter post!(Enter Your Information > )
How to Increase Your Chance to Win

Follow MOMENTICA's official Twitter account!
Retweet MOMENTICA's post about the PHONEKKU Challenge!

Event Prizes

Limited edition TAKEs of SEVENTEEN, featuring never-before-seen photos from 'Limited C' concept (includes a TAKE of all SEVENTEEN members, 13 in total).

Number of Winners
Announcement of Results
(PRO TIP!) Try arranging pink and white TAKEs in celebration of White Day!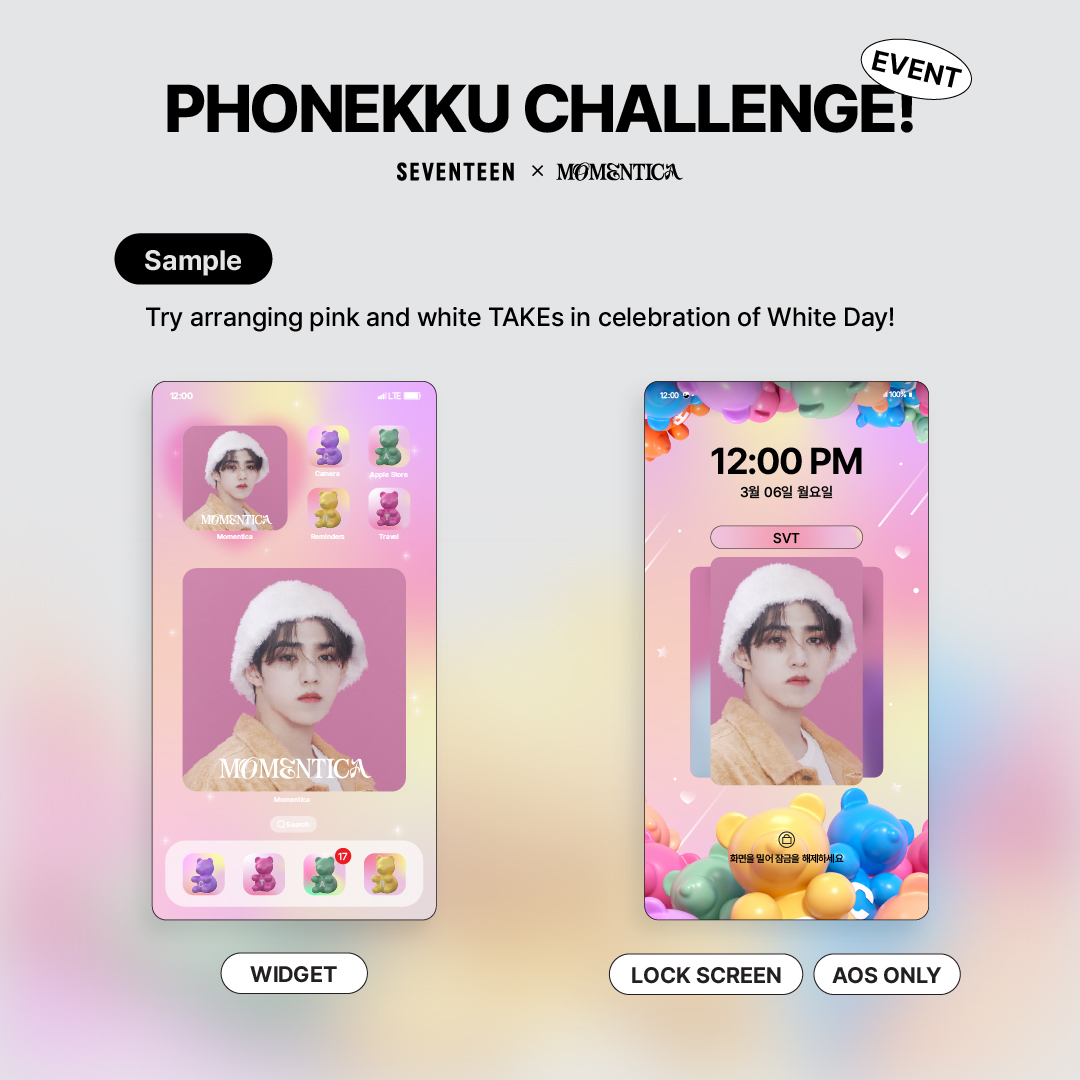 Terms and Conditions
The screenshot must display a TAKE of SEVENTEEN set as a widget or a lockscreen.
The Twitter post of the screenshot must be publicly viewable.
Screenshots must be posted within the event period.
Deleting the post before the event is closed may result in exclusion of the participant from the lottery.
Certain devices may not support widgets and lockscreens.
Event prizes will be issued directly to the Collect Book of the winner's account.
The issued TAKE may be claimed by clicking on the pop-up notification after log-in, or by accessing Unopened Packs in My Collection.
The transactional state of any TAKE issued via the Referral Event is subject to change in accordance to prevailing policies.
Screenshots that are used to participate in this event may be reused by MOMENTICA for marketing purposes within the service platform or on social media.
Screenshots that include inappropriate content may result in exclusion as a participant from the lottery.
The participant shall be held liable for any and all damages that are incurred by contents of the posted screenshot.
Users cannot participate in this event from countries or regions that do not support MOMENTICA.
MOMENTICA shall not be held liable for any incident that may occur due to negligence of the event guidelines.
This event is subject to change in schedule and may end early due to circumstantial reasons.

Please contact customer support for any questions regarding the Referral Event.