Hello,
This is MOMENTICA, the ever-glowing moments of your beloved.
To commemorate the release of fromis_9's first album, 'Unlock My World,' MOMENTICA has prepared for you a special event.
Use the event QR code in 'Unlock My World' now and share your limited edition TAKE to try your chance at winning an album signed by every member of fromis_9!


[Unlock My TAKE Event Overview]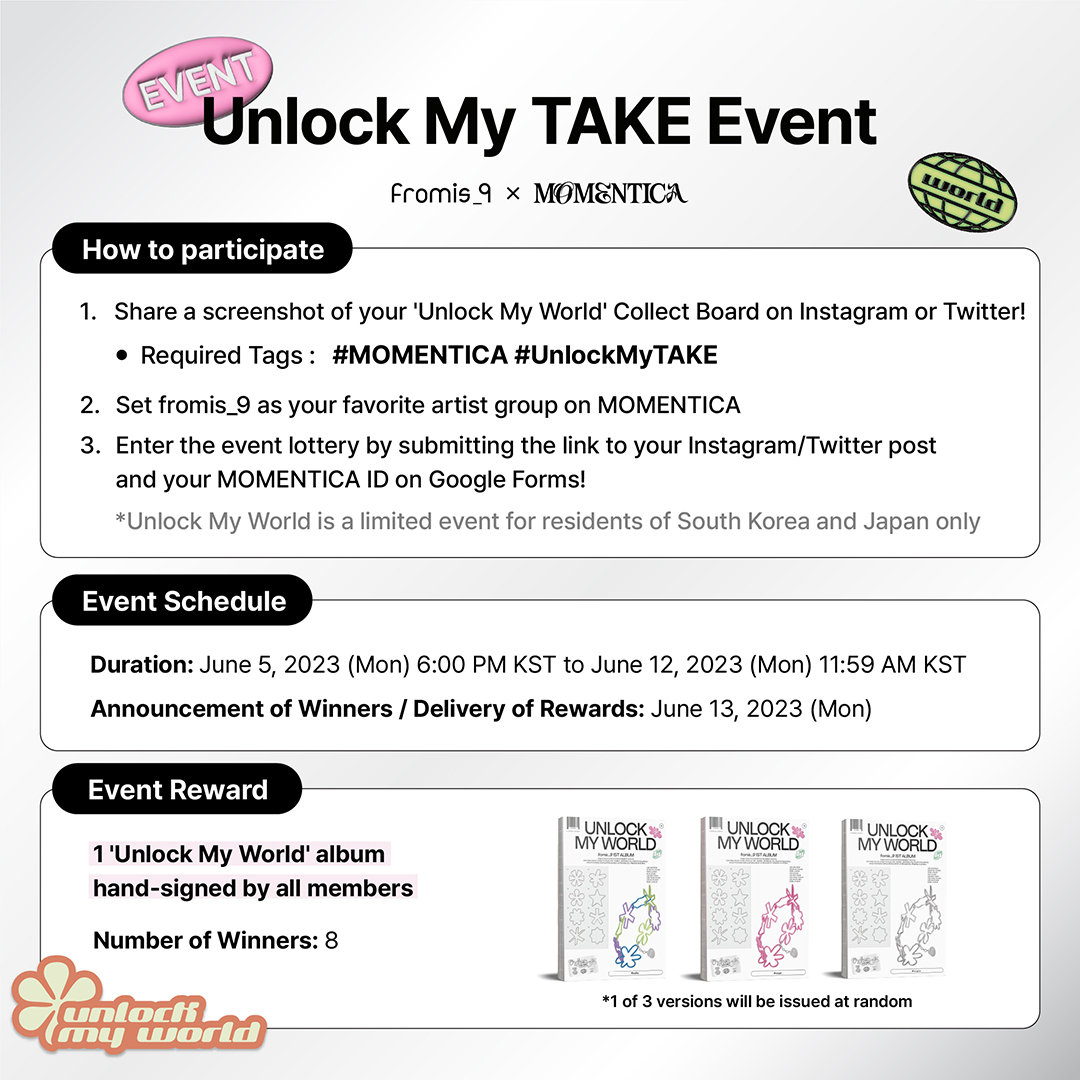 [Event Schedule]
Event Launch: June 5, 2023
Event Duration: June 5, 2023 ~ June 12, 2023, 11:59 AM
Announcement of Winners: June 13, 2023, 1:00 PM (KST)
(Rewards shipped to registered addresses before June 20, 2023)
*MOMENTICA will announce the winners and send individual notifications.
Shipping and Delivery: June 20, 2023, 1:00 PM (KST)
[Event Reward]
Autographed album by all members of fromis_9
[How to Participate]
1. Share a screenshot of your 'Unlock My World' Collect Board on Twitter or Instagram!
Required Tags: #MOMENTICA #UnlockMyTAKE
2. Set fromis_9 as your favorite artist group on MOMENTICA.
3. Enter the event lottery by submitting the link to your Twitter/Instagram post and your MOMENTICA ID on Google Forms!
4. How to raise your chances to win!
Follow MOMENTICA on Twitter or Instagram
Retweet MOMENTICA's event announcements on Twitter
*Unlock My TAKE event is available for entrants who are South Korean or Japan resident ONLY
[Participation Link]
Google Forms Link: https://forms.gle/UdH6oVNUTMNXNXSs8
[How to raise your chances to win!]
Follow MOMENTICA's official account on Twitter!

Retweet MOMENTICA's event announcements with links to your own My Collection! (Post must include your MOMENTICA ID)
[IMPORTANT]
Rewards that are unclaimed before June 20, 2023 1:00 PM KST will be canceled.

Unauthorized or inappropriate entries may result in disqualification from the event.

MOMENTICA cannot be held liable for cancellation of rewards due to omission, erroneous submission of personal information, or unreported changes in contact information (e-mail).

Rewards cannot be redelivered when failure of delivery has been caused by erroneous submission of mailing addresses.

All rights to rewards will be void if the winner wishes to forfeit said reward.

Collection of personal information and consent to collection of personal information will be processed in adherence to Personal Information Protection Act.

Collected personal information will be deleted after one month of shipping and delivery of event rewards.

Event participation may be limited in countries or regions where access to MOMENTICA is restricted.

MOMENTICA cannot be held liable for any loss or damage that incurs from user negligence of terms and conditions.

MOMENTICA reserves the right to terminate this event early in accordance with internal circumstances.