Hello!
This is MOMENTICA, the ever-glowing moments of your beloved.
To celebrate the release of new TAKEs on SEVENTEEN, we have prepared for you a special event.
Share your captured screen of Collect Boards for '[BE THE SUN] JAPAN (TOKYO)' and win must-have items for the upcoming concert!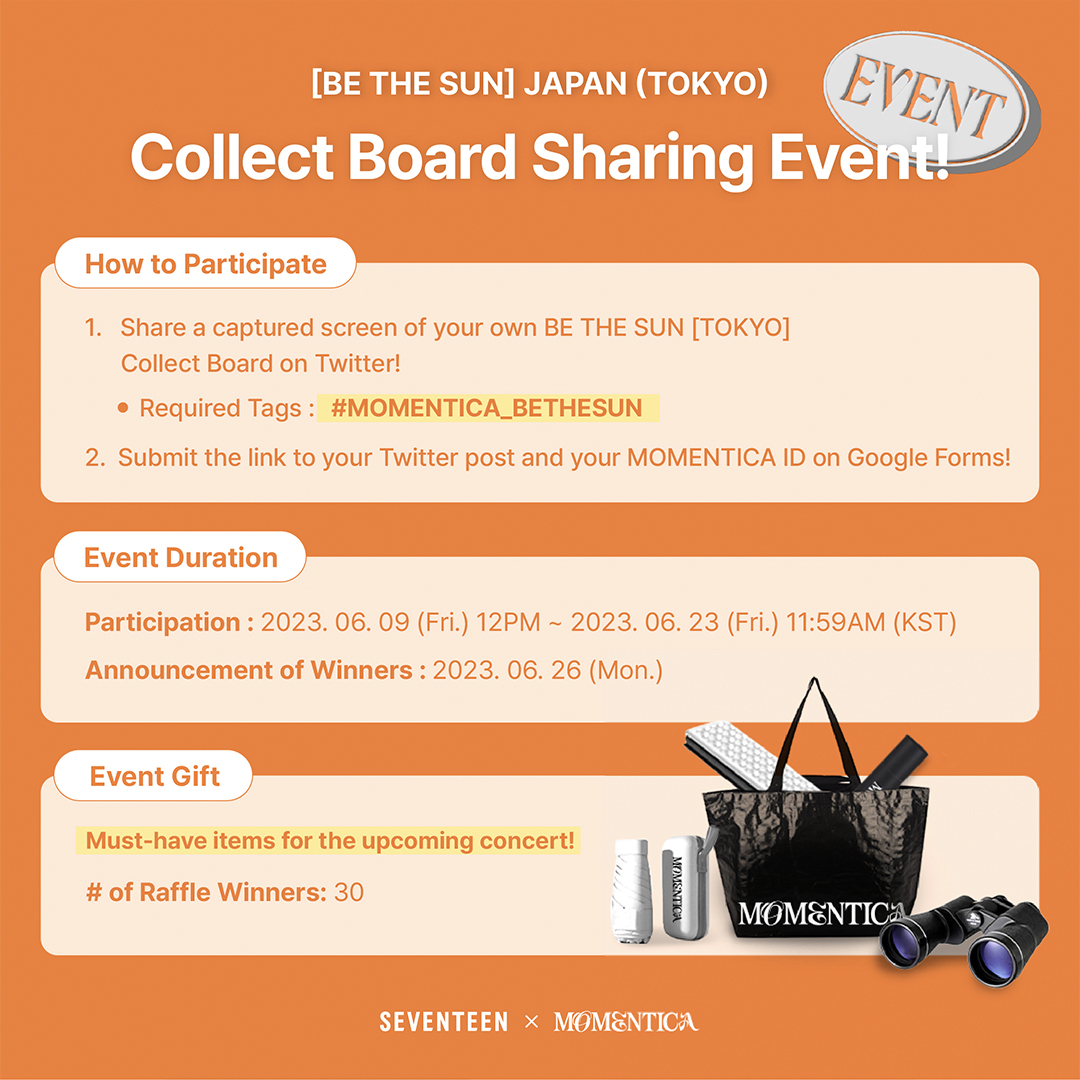 [MOMENTICA [BE THE SUN] JAPAN (TOKYO) Collect Board Sharing Event]
Any user who shares their Collect Board of 'WORLD TOUR [BE THE SUN] JAPAN (TOKYO)' for SEVENTEEN may participate in a raffle for a chance to win Concert Summer Ready Bag Merch Package from MOMENTICA.
Event Duration

2023.06.09 (Fri) 12 PM(KST) ~ 2023.06.23 (Fri) 11:59 AM(KST)

How to Participate
Capture your 'WORLD TOUR [BE THE SUN] JAPAN(TOKYO)' Collect Board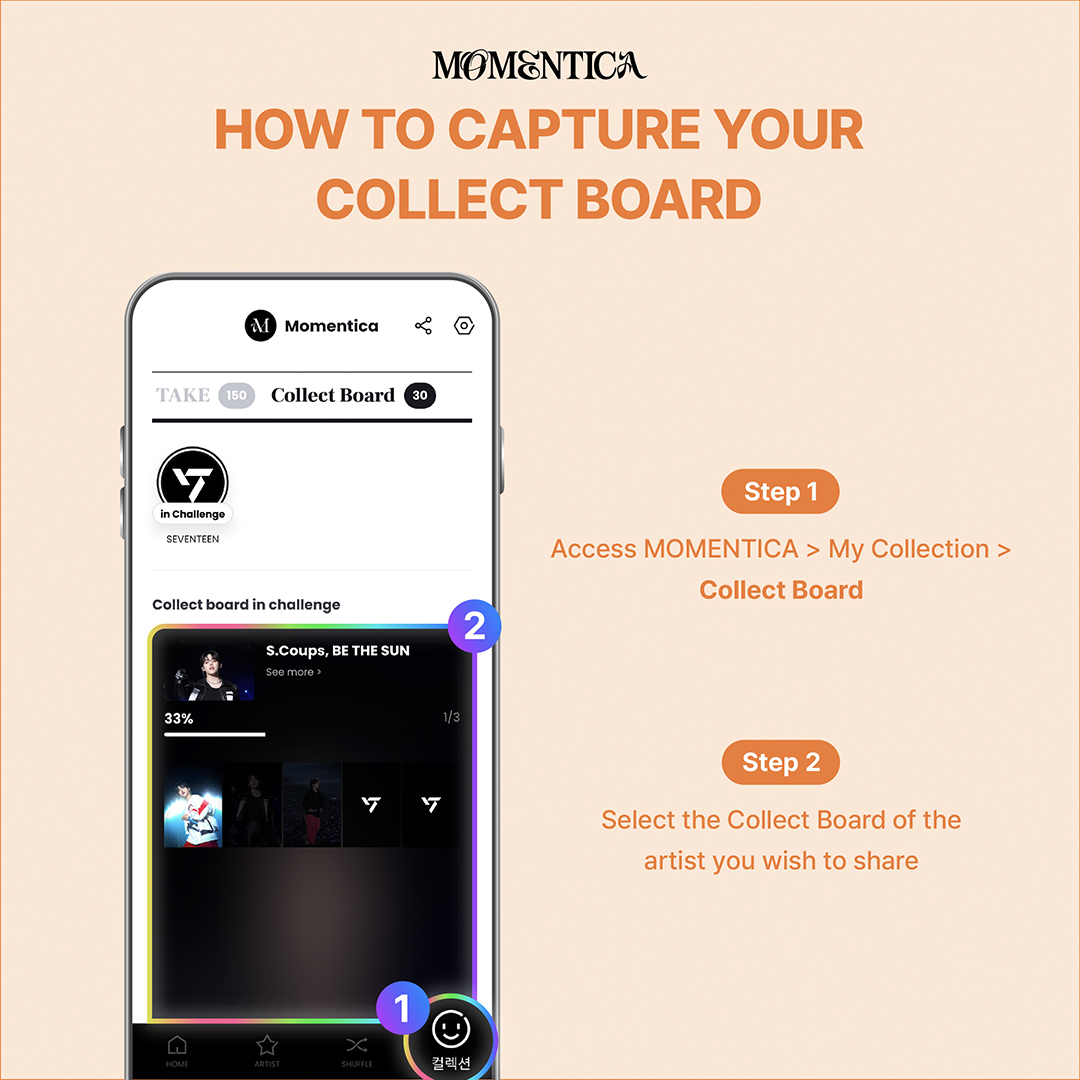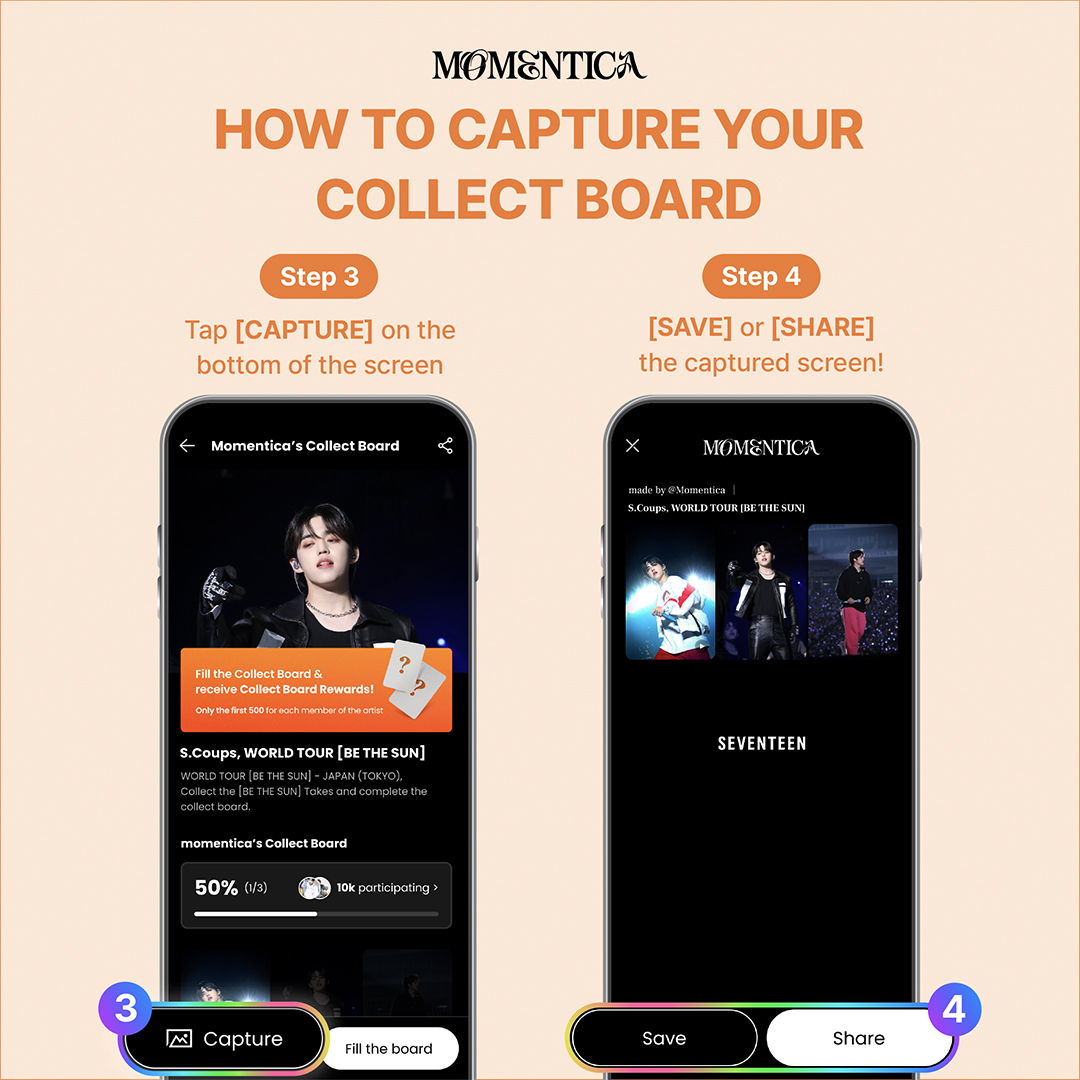 When taking a screenshot of a Collect Board page, user nicknames may be exposed in the upper part of the captured screen.

For users who wish to remain private, cropping the screenshot to hide the nickname will not affect the status of participation in this event.
Share the captured screen of your Collect Board of SEVENTEEN on Twitter!

Required Tags: #MOMENTICA_BETHESUN

Complete the provided Google Form to enter your MOMENTICA ID and the link to your Twitter post! (

Enter Your Information >

)
Concert Ready Bag Goods Package

Poster Carrier + Multi-Purpose Carrying Bag + Binoculars + Portable Seating Cushion + Parasol
Announcement of Winners / Delivery of Rewards
Number of Raffle Winners: 30

Announcement of Raffle Results: June 26, 2023 (subject to change)

MOMENTICA will announce the results, and each winner will be notified separately.

Prize Delivery: Scheduled to be shipped on June 30, 2023
Follow @momentica_twt on Twitter and RT our event notices to raise your chance of winning!

Share your completed Collect Board!
[Terms and Conditions]
To qualify for event participation, the captured screen must be of Collect Boards for '[

BE THE SUN] JAPAN (TOKYO)

' only.

Collect Boards do not have to be fully completed for event participation.

The Twitter post of the screenshot must be publicly viewable.

To qualify for event participation, entries must be posted during the event period. Any post that is deleted before the event is over may be excluded from the selection process.

The displayed package is a sample image and may change according to circumstance.

Prizes will be canceled if the winner does not confirm to claim the prize before the shipping date (June 30, 2023).

LEVVELS, Inc. will be responsible for taxes and fees that may incur from any issued prize over the value of 50,000 KRW.

Inappropriate methods of participation will result in cancellation of winning results.

MOMENTICA cannot be held liable for prizes that are canceled due to user negligence to provide correct contact information.

Prizes that are undeliverable or misdelivered due to user negligence to provide correct addresses will not be resent.

If a user wishes to forfeit the prize, all rights to the event results and resulting prize will be automatically forfeited.

Consent to collect and use personal information is applied in accordance with the regulations of the Personal Information Protection Act.

Collected personal information will be destroyed one month after the event prize has been shipped.

The event is void where prohibited or restricted by applicable law, including any countries/regions where promotion licensing and registration is required and any countries/regions sanctioned by the Office of Foreign Assets Control (OFAC) of the U.S. Department of the Treasury.

MOMENTICA cannot be held liable for any incident that may occur due to negligence of event guidelines.

This event is subject to early termination or change in schedule.