Hello!
This is MOMENTICA, the ever-glowing moments of your beloved.
MOMENTICA is thrilled to announce the arrival of the talented new artist, MAVE:!
Get ready to embark on a special journey by completing MAVE:'s Collect Board. By collecting all the items, you'll unlock a unique gift—a personalized message from MAVE: exclusively for you!
Don't miss out on this opportunity to receive a heartfelt message from your favorite artist. Start collecting MAVE:'s collectibles now and enjoy this special gift just for you!
[MAVE: Private Voice Event]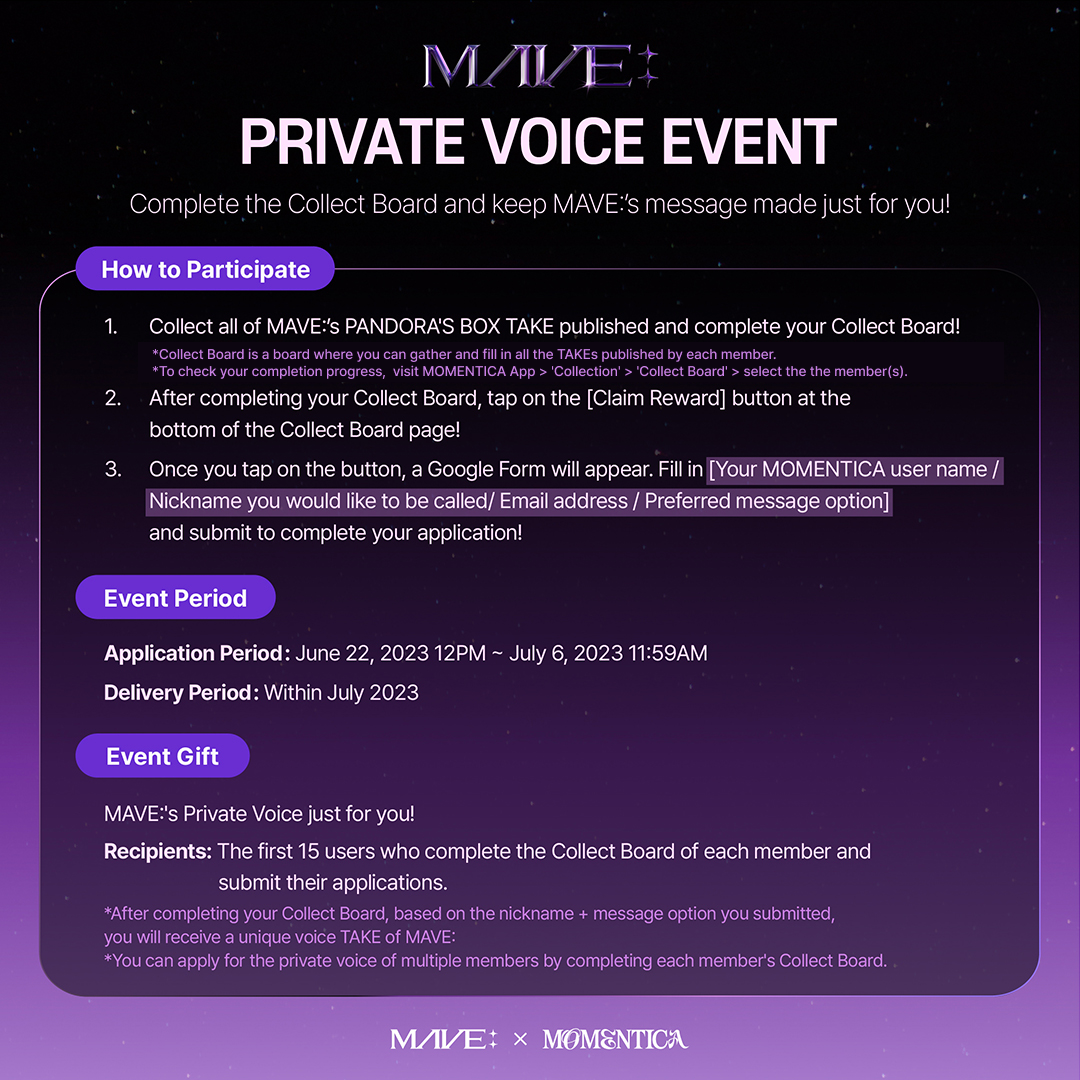 Event Period
a. Application Period: June 22, 2023 12PM ~ July 6, 2023 11:59AM (KST)
b. Delivery Period: Within July 2023
Event Gift :

MAVE:'s Private Voice just for you!


a. After completing your Collect Board, based on the nickname + message option you submitted, you will receive a unique voice TAKE of MAVE:
Recipients : The first 15 users(Total 60 people) who complete the Collect Board of each member and submit their applications
How to Participate
Collect all of MAVE:'s PANDORA'S BOX TAKEs published and complete your Collect Board!
*Collect Board is a board where you can gather and fill in all the TAKEs published by each member.

After completing your Collect Board, tap on the [Claim Reward] button at the bottom of the Collect Board page!
Once you tap on the button, a Google Form will appear. Fill in [Your MOMENTICA nickname / Nickname you would like to be called / Email address / Preferred message option] and submit to complete your application!
🚨Completing the Collect Board alone does not guarantee the gift. Remember to

complete the application

as well to be eligible for the gift🚨
IMPORTANT
Once you have completed the Collect Board for a specific member, you will be eligible to receive one private voice message from that member. While you can collect voice messages from other members as well, please note that the messages will be limited to one per member.
Any inappropriate nickname will be replaced.
Completing the Collect Board alone does not guarantee the gift. Remember to complete the application as well to be eligible for the gift.
The private voice messages will be distributed via push notifications in July through a separate minting process.
Inappropriate methods of participation may result in penalties such as withdrawal of issued TAKE or restriction of participation activities.
Users cannot participate in this event from countries or regions that do not support MOMENTICA.
MOMENTICA shall not be held liable for any incident that may occur due to negligence of the event guidelines.
This event is subject to change in schedule and may end early due to circumstantial reasons.
Please contact customer support (momentica_support@levvels.com) for any questions regarding the event.