Hello.
This is MOMENTICA, the ever-glowing moments of your beloved.
To celebrate the CSR "1st Year Collection" TAKE Drop, MOMENTICA is supporting CSR!
During the CSR "1st Year Collection" event period, if you receive one or more TAKE, you become a "holder" of CSR TAKE. The level of support from MOMENTICA will be determined based on the total number of holders by the end of the event period on August 10, 2023, 12:00PM KST. Please show your support for CSR by spreading the word!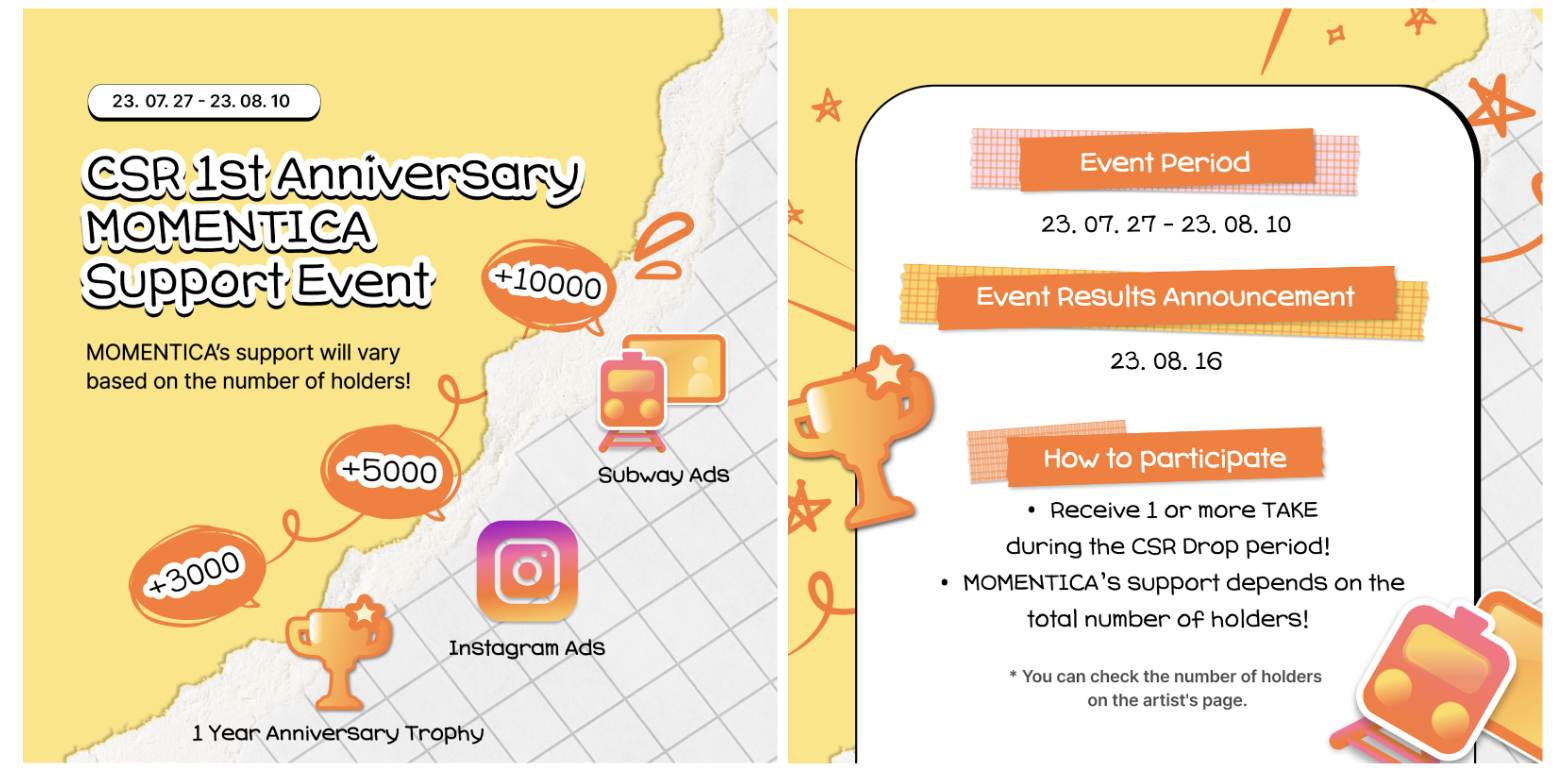 - Application Period: 2023. 07. 27 12PM KST ~ 2023. 08. 10. 11:59AM KST
- Event Results Announcement: 2023. 08. 16 (Wed)
[How to receive TAKE]
(1) Sign in to your account on MOMENTICA.
(2) Open CSR's "1st Year Collection" Drops page (Home > Live TAKE)
(3) Tap the [Get a Free Pack] button.
(4) Choose the [EVENT] Pack, and tap the [Get a Free Pack] button again.
(5) Complete payment ($0, Free)
(6) Open your newly acquired pack of TAKE and enjoy!
*Free TAKEs may be claimed until 11:59 AM KST each day.
*You can receive 2 Packs each day, 1 Pack with a PHOTO and 1 Pack with a VIDEO.
*Each free pack will have one random TAKE of one random member of CSR.
*This event may end early if all free TAKEs are run out.
We thank you for all the love and support!