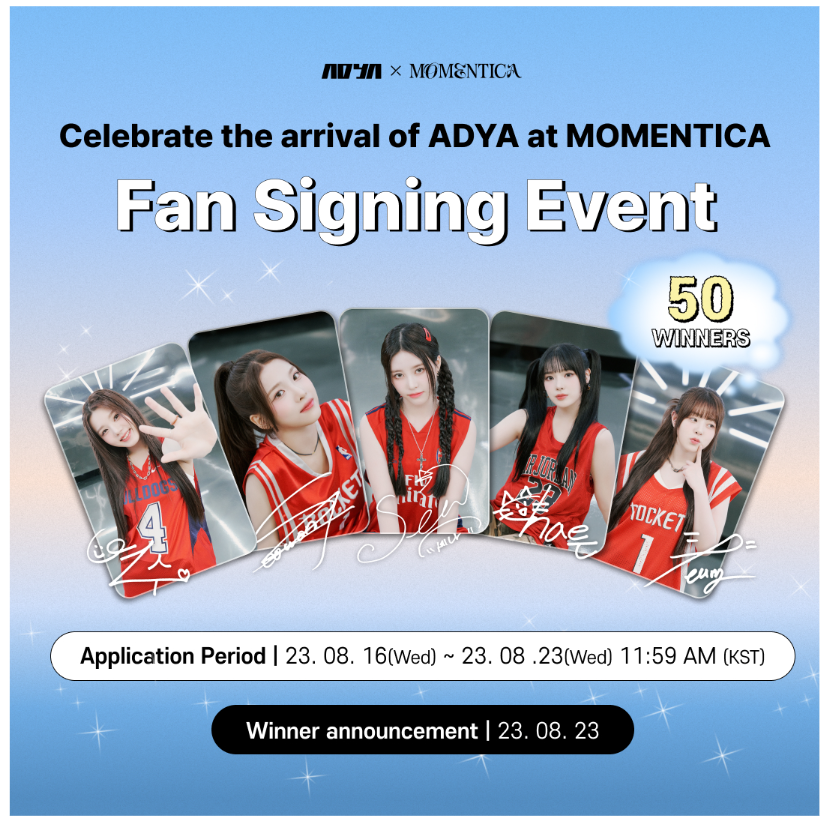 Hello.
This is MOMENTICA, the ever-glowing moments of your beloved.
In addition to the joy of collecting ADYA's TAKE, we have an extra special Fan Signing Event for you!
Don't miss the opportunity to collect ADYA TAKEs and meet ADYA's members!
[ADYA MOMENTICA Fan Signing Event]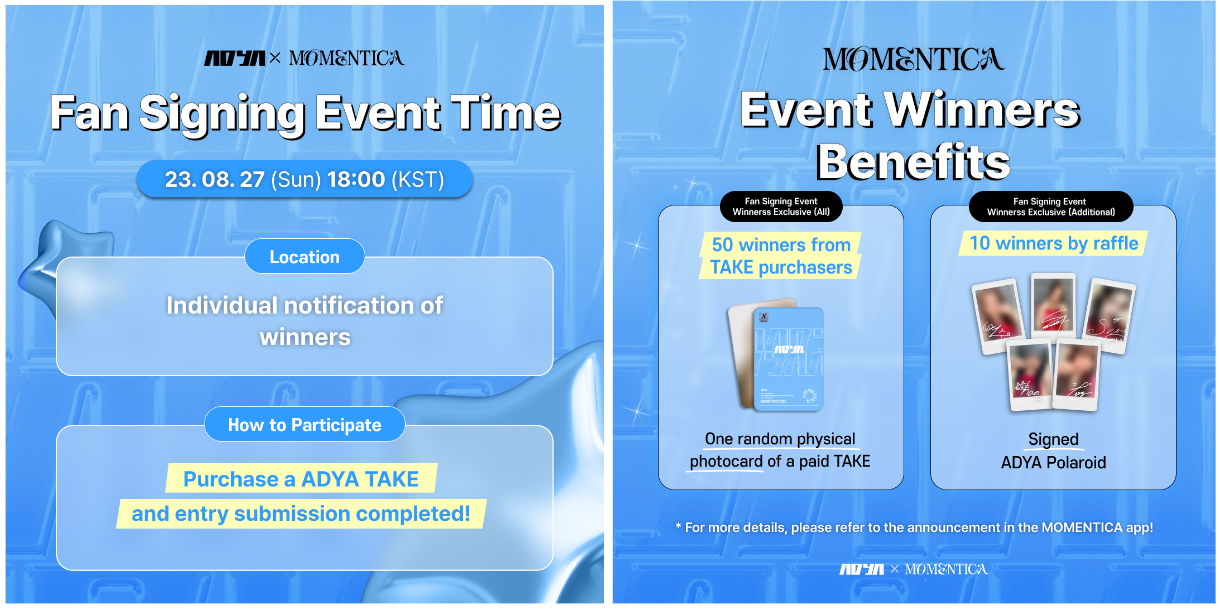 Application Period

August 16, 2023 (Wed) at 12 PM ~ August 23, 2023 (Wed) at 11:59 AM (KST)

How to Apply

Purchase a TAKE and entry submission completed!

Number of Winners
Winner Announcement

August 23, 2023 (Wed) at 6 PM (KST)

Date and Time (Fan Signing Event)

August 27, 2023 (Sun) at 6 PM (KST)

Location

Will be revealed to winners only via email
*Fan Signing Event Winners Benefits
50 winners from Special TAKE Buyers : A physical photocard from Special TAKE (random)
10 winners (chosen by raffle) from the Fan Signing Event Winners : A signed polaroid picture of ADYA member (random)
*There will be High Wave and Performance sessions after the event
[IMPORTANT]
If you have purchased multiple Packs during the event period, the total quantity of your purchases will be automatically entered into the draw.
This event allows one win per person, and in the case of duplicate wins, only the first win selection will be awarded the prize.
Winners will be announced via the MOMENTICA Notice menu, and a separate e-mail will be sent to the winners of the event. Please be sure to check your inbox of the e-mail account used to register on MOMENTICA. If there is no accessible e-mail connected to your account, please connect to receive notice.
This event is an in-person signing event held in Korea.
After confirmation of mask wearing, you will be granted entry, and the fan signing event will proceed in the order of the seat numbers.
The signing event will proceed in order of seat numbers. Please note that if you do not participate according to your designated number or do not follow the instructions of the on-site staff, you may not receive an autograph, so please be aware of this.
Please take your seat according to your assigned number before the signing event starts, and after entering, seat changes and leaving your seat are strictly prohibited. If you change your seat or move without permission, you may be escorted out.
If a transfer of signing event tickets is detected, you will be escorted out.
The use of recording and filming devices, including cameras, voice recorders, cell phones, and smartwatches, is prohibited during the signing event. If detected, your data may be deleted, and you may be disqualified and forcibly removed.
Live broadcasting on social media platforms is prohibited during the signing event. If detected, you will be forcibly removed.
For efficient proceedings, we kindly ask you to participate from your designated seat and refrain from placing cameras, tripods, or personal belongings in areas other than your designated seat.
autographs will be accepted only on provided on-site paper. Signing on other items like personal belongings will be prohibited by on-site staff
One question per member on a sticky note. No multiple questions per a sticky note, and no written content from members will be allowed on other items.
Staff will review questions on a sticky note; inappropriate ones may be prohibited
Only the provided writing tools by the artist can be used for autographs.
Any demanding behavior, shouting, offensive language, or disruptive actions will result in eviction.
Defacing artists, including their face, hand, etc., is not allowed.
Fragile items, perishables (food, flowers), and monetary gifts (cash, gift cards, coupons, vouchers) with potential damage or spoilage are not allowed.
Props for photography or filming won't be returned after the signing event.
We ask for your understanding regarding potential member absences due to unforeseen circumstances. Please note that no exchanges or refunds are possible even in such cases of member absence.

Any user who participates in the event via unauthorized or inappropriate methods may be restricted from participation or winning in the event.

Users cannot participate in this event from countries or regions that do not support MOMENTICA.

MOMENTICA cannot be held liable for any incident that may occur due to negligence of event guidelines.

This event is subject to early termination or change in schedule.

Please contact customer support (momentica_support@levvels.com) for any questions regarding the event.