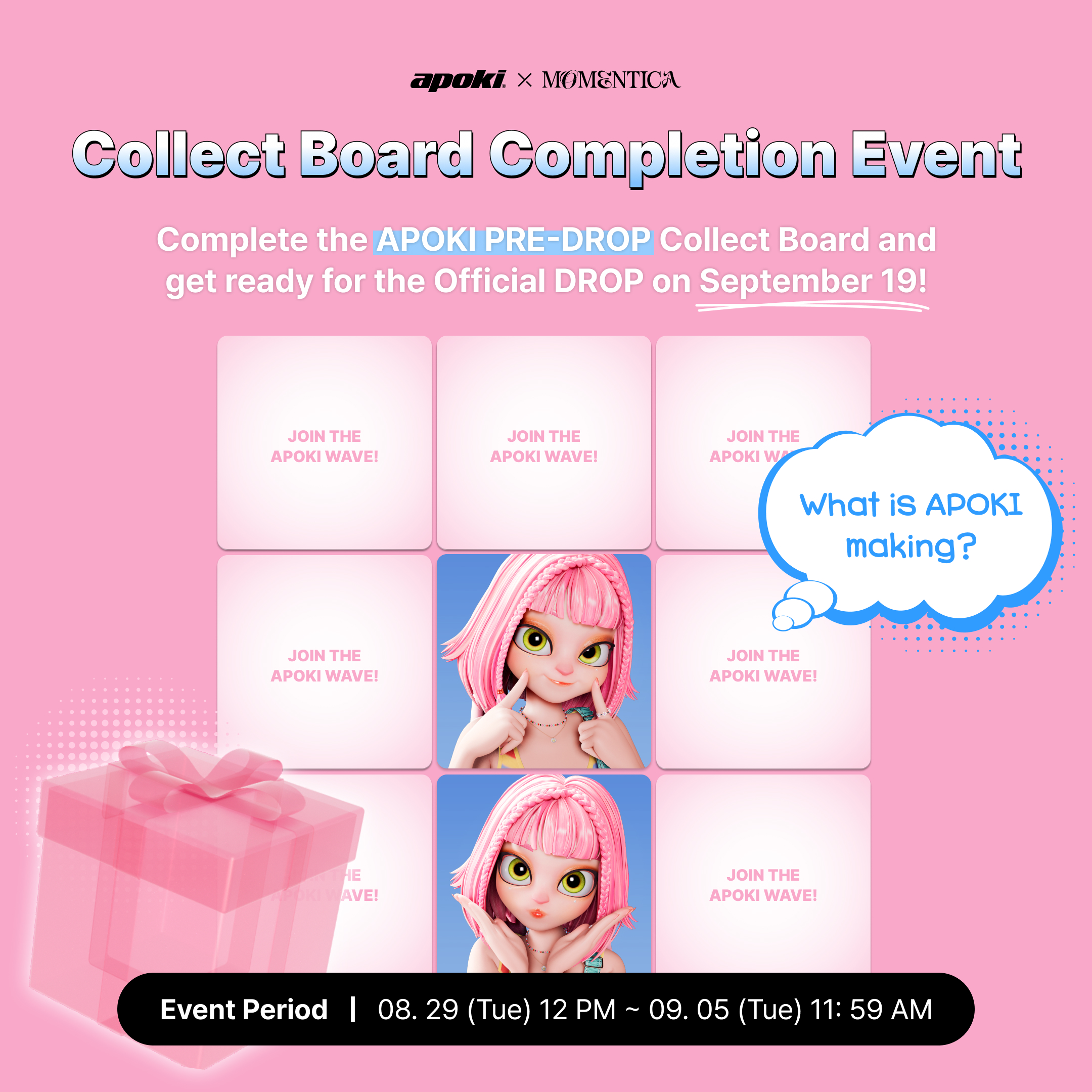 Hello.
This is MOMENTICA, the ever-glowing moments of your beloved.
MOMENTICA is thrilled to announce the arrival of the talented new artist, APOKI!
In addition to the joy of collecting APOKI's TAKE, we have an extra special surprise for you!
Complete the APOKI PRE-DROP Collect Board and get ready for the Official DROP in September!
[APOKI 'JOIN THE APOKI WAVE!' Collect Board Completion Event]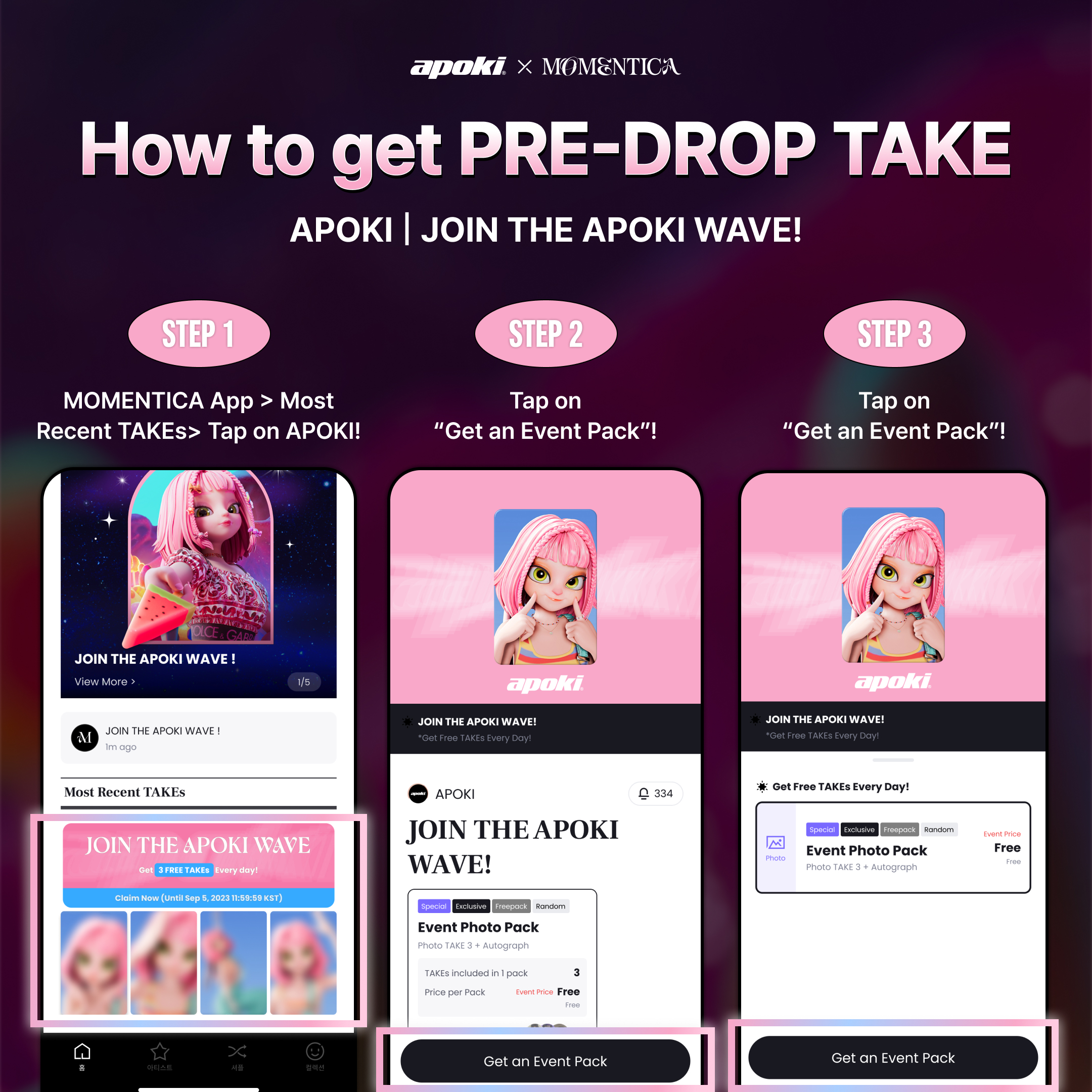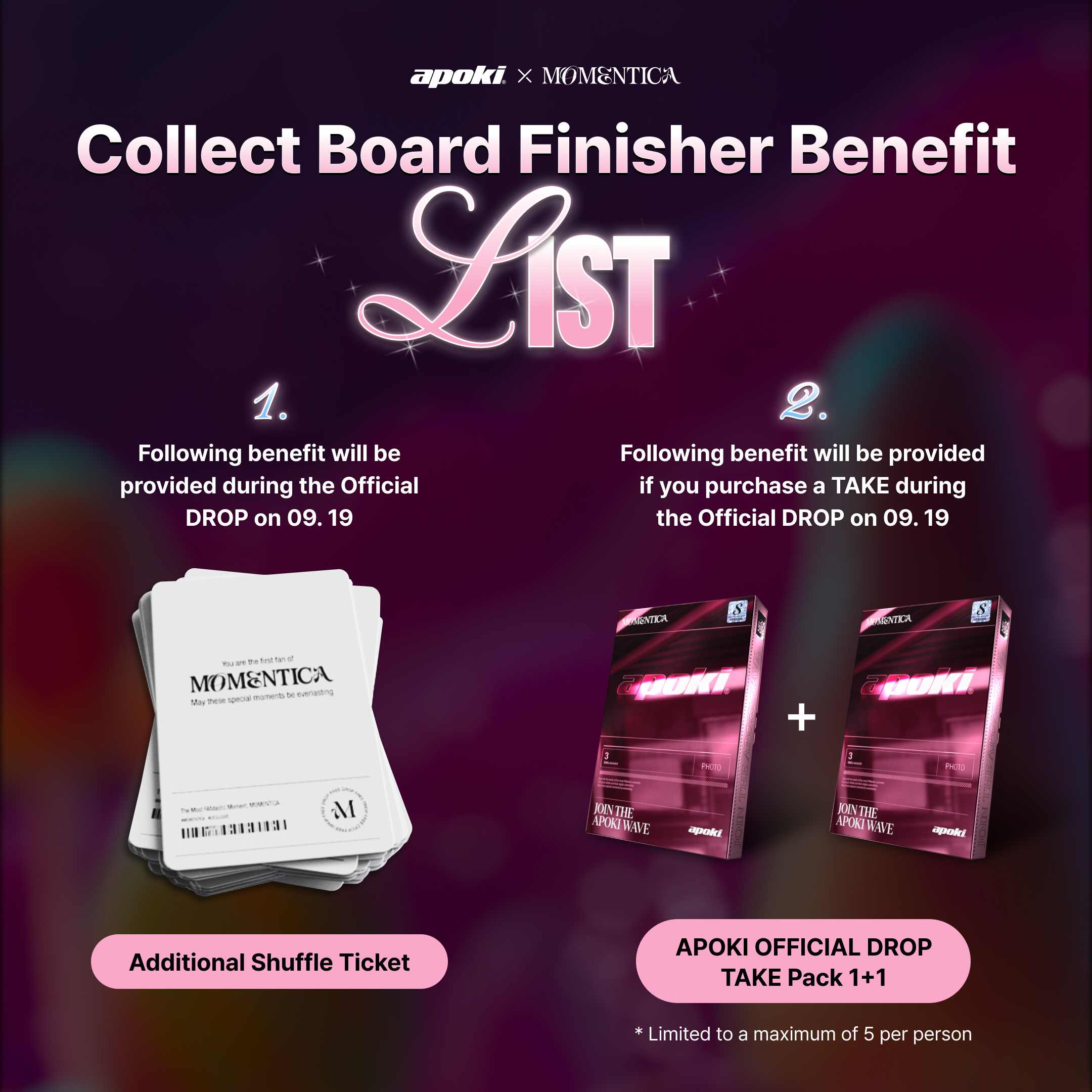 *Event Period : August 29, 2023 (Tue) at 12 PM ~ September 5, 2023 (Tue) at 11:59 AM (KST)
*How to Participate : Automatic entry upon completing Collect Board! Collect all the items by claiming 3 free 'JOIN THE APOKI WAVE!' TAKEs every day!
*How to get PRE-DROP TAKE
MOMENTICA > Most Recent TAKEs > Select APOKI 'JOIN THE APOKI WAVE!'
Tap the 'Get an event pack' button!
*Event Participation TIP) Try "Shuffle" to get the APOKI TAKE you haven't collected yet!
(*A free Shuffle Ticket will be automatically recharged every 4 hour / *You can also purchase Shuffle Ticket Packages to get additional Shuffle Tickets)
*Collect Board Finisher Benefits :
Following benefit will be provided during the Official DROP in September
Additional Shuffle Ticket
APOKI Official DROP TAKE Pack 1+1 (*Limited to a maximum of 5 per person)
[IMPORTANT]
Entry submission will be automatically completed upon completing the Collect Board, and a separate notification will be sent when the benefits are available in September.

Collect Board must be completed within the event period, and completing after the event is closed may result in exclusion of the participant.

Inappropriate methods of participation may result in penalties such as restriction of participation activities.

Users cannot participate in this event from countries or regions that do not support MOMENTICA.

MOMENTICA shall not be held liable for any incident that may occur due to negligence of the event guidelines.

This event is subject to change in schedule and may end early due to circumstantial reasons.

Please contact customer support (momentica_support@levvels.com) for any questions regarding the event.