Hello.
This is MOMENTICA, the ever-glowing moments of your beloved.
MOMENTICA is thrilled to announce the arrival of the talented new artist, BAEKHO! In addition to the joy of collecting BAEKHO's TAKE, we have an extra special surprise for you!
Please share your day-to-day life with BAEKHO's TAKE!
Lucky winners will receive various prizes including Apple Watch, autographed lightsticks, and gift cards!
[#MOMENTICA_WITH_BAEKHO Challenge Event]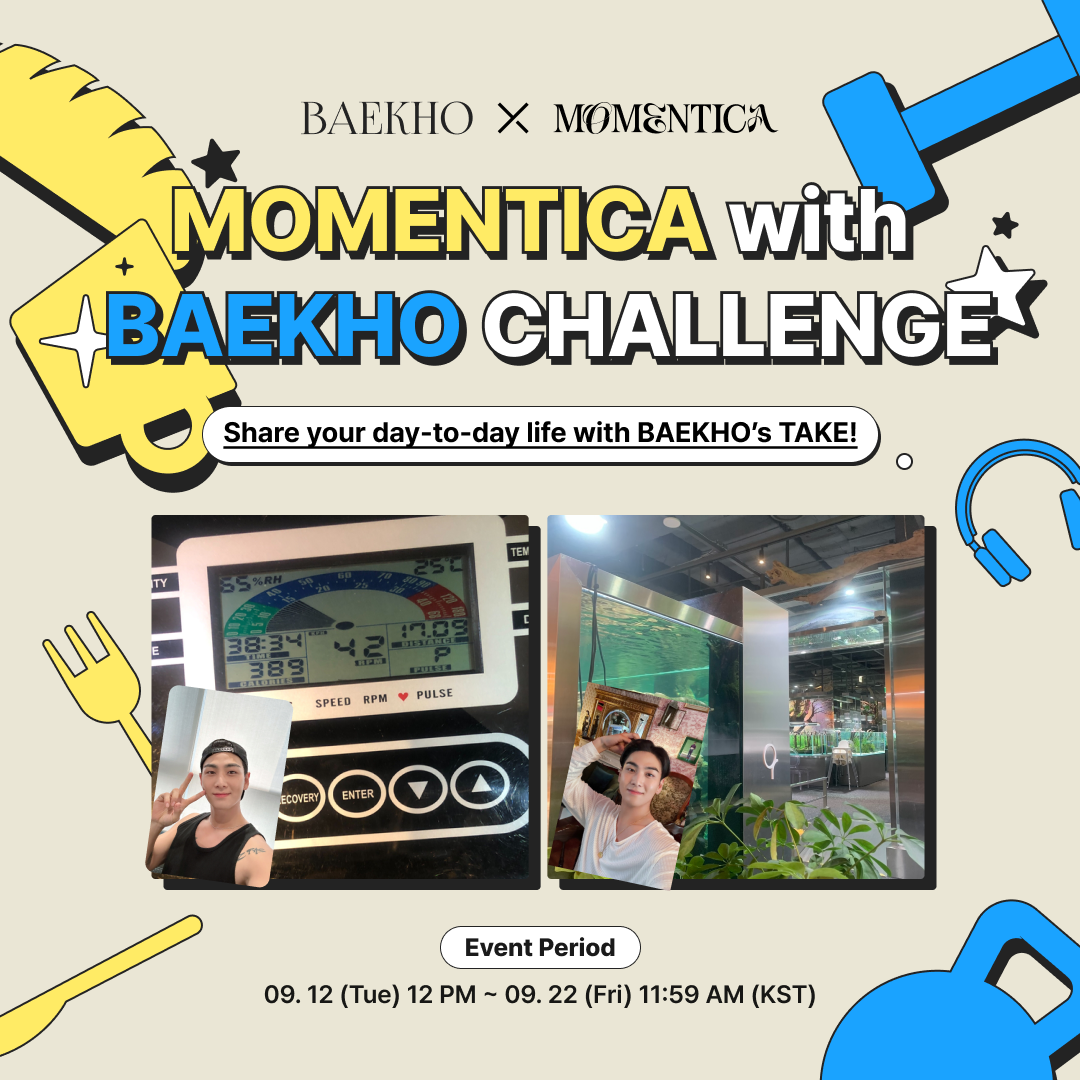 Event Period

September 12, 2023 12 PM (KST) - September 22, 2023 11:59AM (KST)

How to Participate

1. Please take a photo with your BAEKHO's TAKE using the Etiquette Shot Camera on MOMENTICA !
*Any moment from your daily life is acceptable, such as workout photos, a picture of delicious food or a snapshot of your life in your school, workplace, or home!
2. Upload the photo on the MOMENTICA Etiquette Shot menu—your entry submission is complete!
How to Increase Your Chance to Win!) Upload the photo on Twitter or Instagram with #MOMENTICA_WITH_BAEKHO hashtag!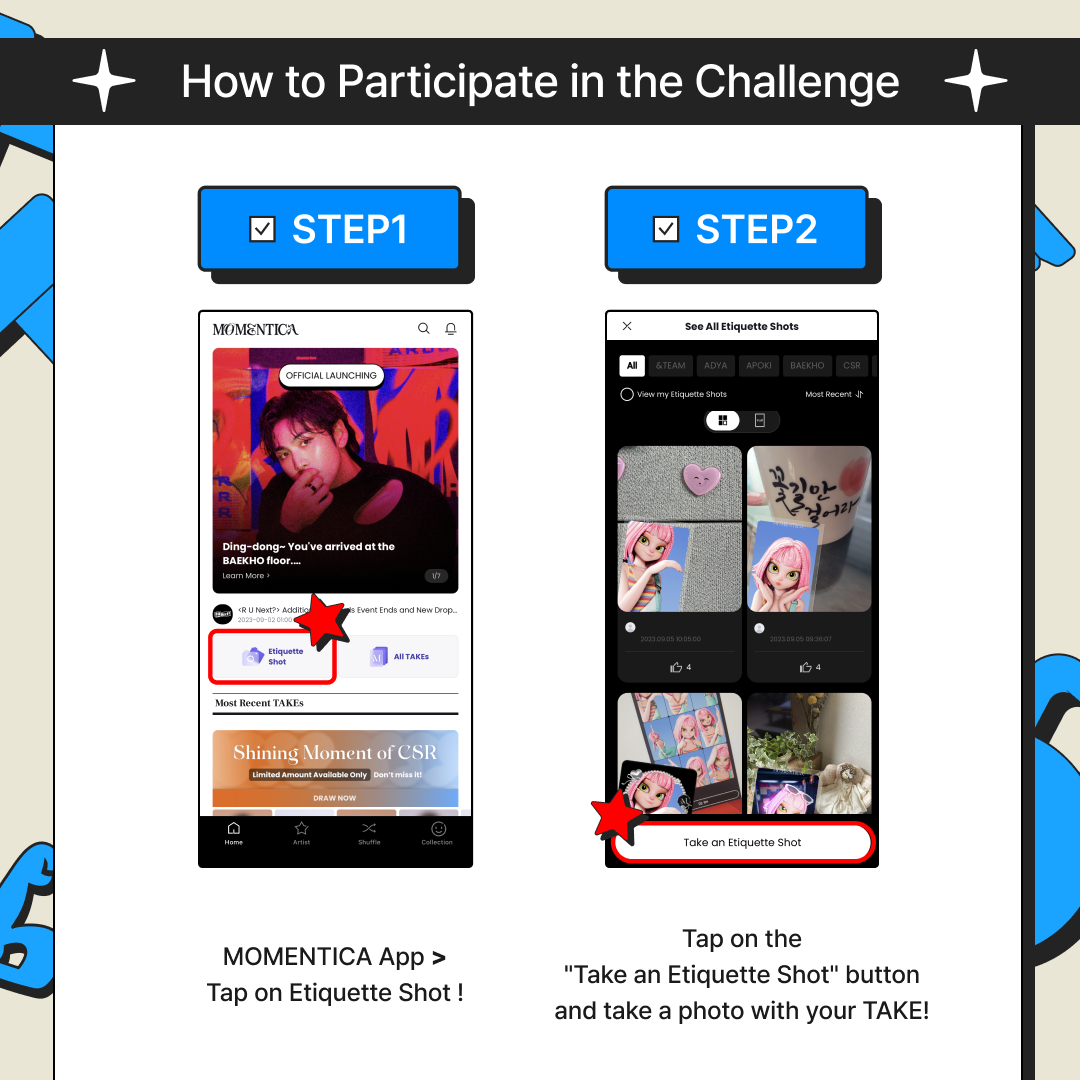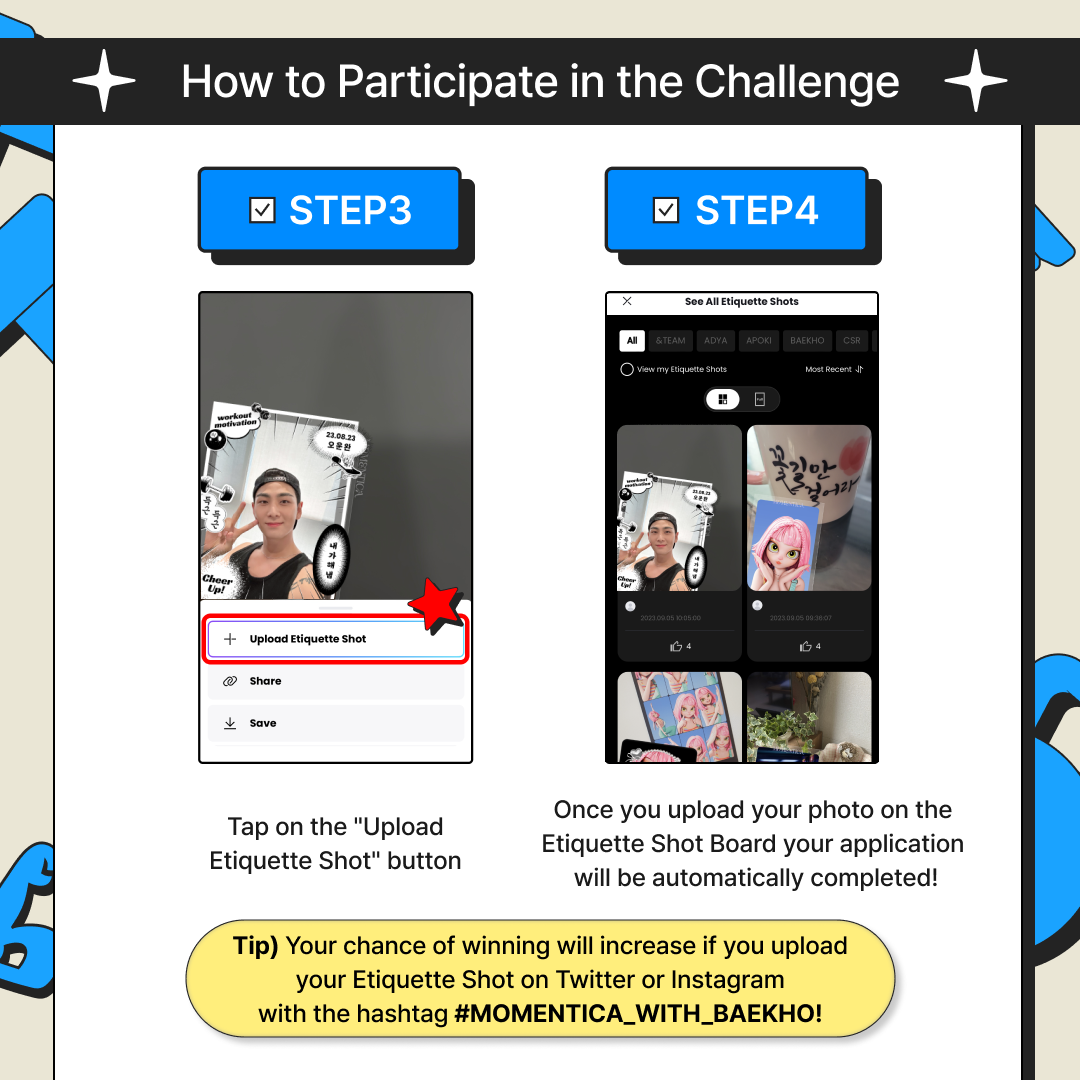 Apple Watch SE : 1 Person
Lightstick autographed by BAEKHO : 5 People
OLIVE YOUNG 30,000 KRW Gift Card : 10 People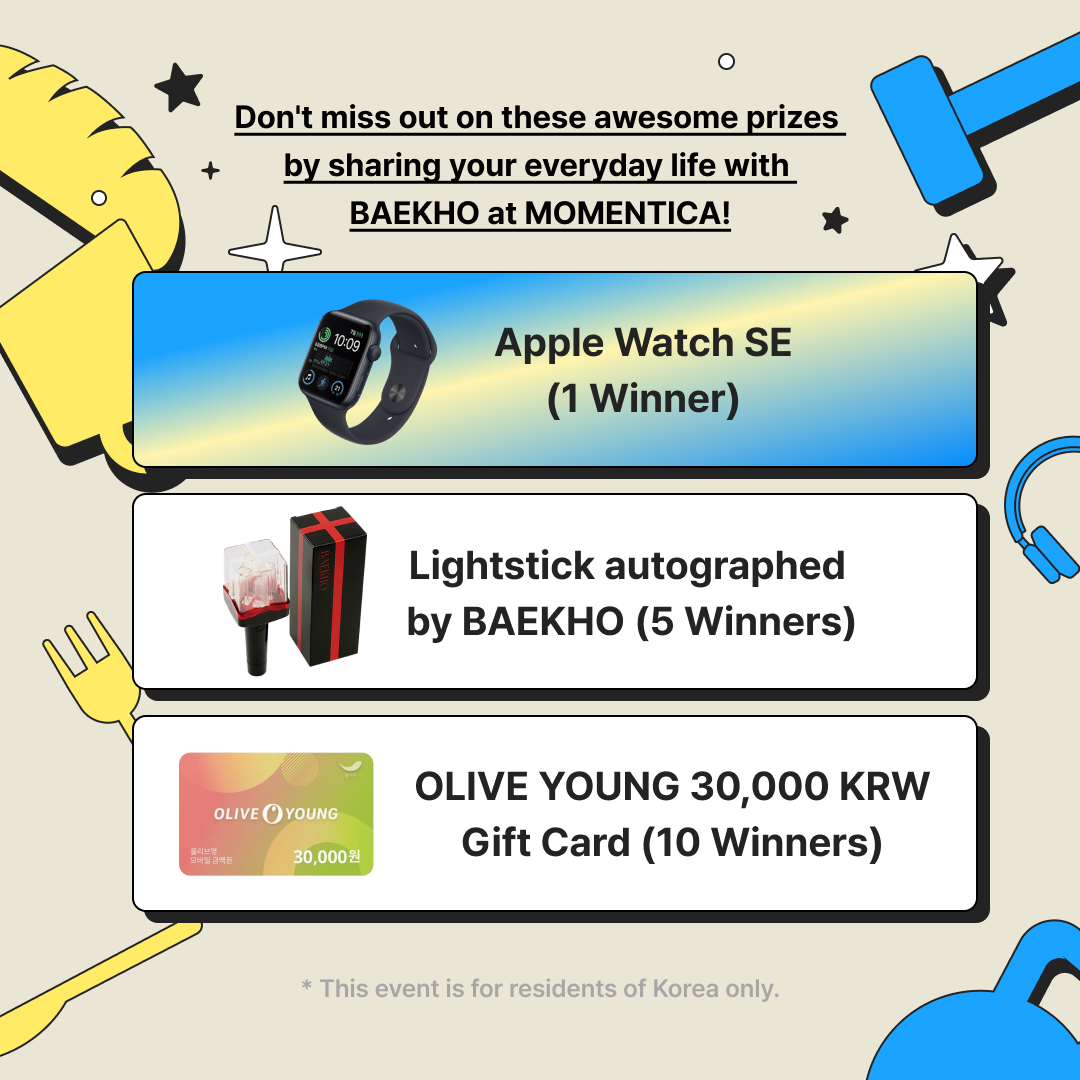 *IMPORTANT*
The photo must display a

'A day with BAEKHO' TAKE purchased via the Drop page.

(*Welcome Pack will be excluded from the count.)

Multiple Etiquette Shots may be uploaded, but each user is limited to one event reward.

Up to 5 Etiquette Shots may be uploaded within 24 hours.

Any inappropriate post may be deleted without warning.

This event is available for entrants who are residents of South Korea

Photos must be posted within the event period, and deleting the post before the event is closed may result in exclusion of the participant from the lottery.

Photos that are used to participate in this event may be reused by MOMENTICA for marketing purposes within the service platform or on social media.

Photos that include inappropriate content may result in exclusion as a participant from the lottery.

The participant shall be held liable for any and all damages that are incurred by contents of the post.

Prizes will be canceled if the winner does not confirm to claim the prize before the shipping date (2023. 10. 06 11:59 AM KST).

Depicted gifts are images for reference, and actual items may differ from the image displayed above.

The winner will be responsible for taxes and fees that may incur from any issued prize over the value of 50,000 KRW.

MOMENTICA cannot be held liable for prizes that are canceled due to user negligence to provide correct contact information.

If a user wishes to forfeit the prize, all rights to the event results and resulting prize will be automatically forfeited.

Consent to collect and use personal information is applied in accordance with the regulations of the Personal Information Protection Act.

Collected personal information will be destroyed one month after the event prize has been shipped.

Inappropriate methods of participation will result in cancellation of winning results.

Users cannot participate in this event from countries or regions that do not support MOMENTICA.

MOMENTICA cannot be held liable for any incident that may occur due to negligence of event guidelines.

This event is subject to early termination or change in schedule.

Please contact customer support (momentica_support@levvels.com) for any questions regarding the event.