Hello.
This is MOMENTICA, the ever-glowing moments of your beloved.
In addition to the joy of collecting APOKI's TAKE, we have an extra special Video Call Event for you!
Don't miss the opportunity to collect exclusive TAKEs and meet APOKI!


[APOKI 'Space' TAKE 1:1 Video Call Event]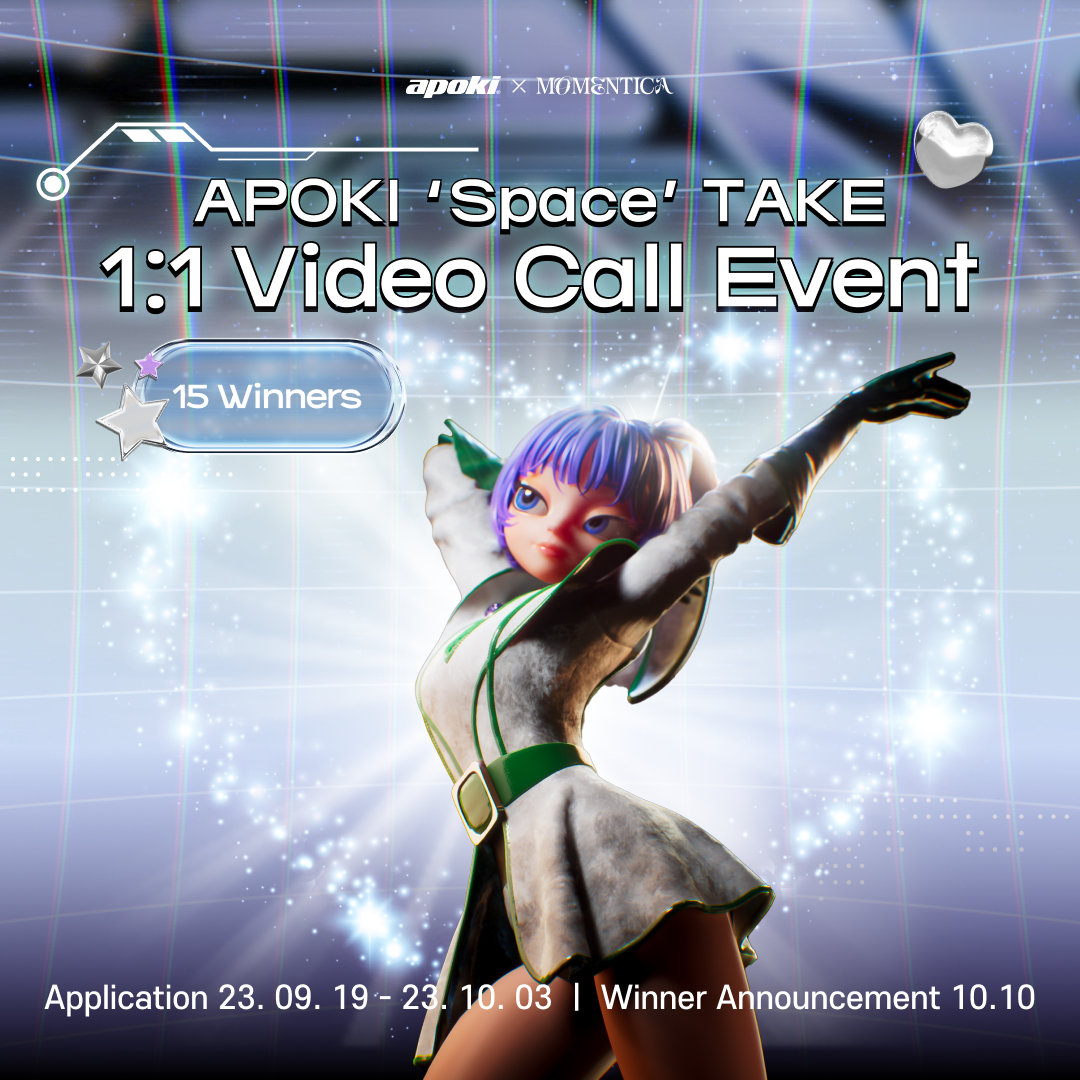 Date and Time (Video Call Event)

October 19, 2023 (Thu) at 5PM (KST)
*The event schedule is subject to change depending on the artist's schedule.
Application period

September 19, 2023 (Tue) at 12PM ~ October 3, (Tue) at 11:59AM (KST)

How to Apply

Purchase APOKI's 'Space' Special Pack during the event period and entry submission is completed!

Number of Winners
Winner Announcement

After October 10th, 2023 (Tue) 18:00(KST), you may check the winner announcement on the Momentica 'Notice' Page and we will inform winners individually via email

Special Gift for Winners

We will create your video call moment as a 'Private TAKE'! (*It will be airdropped to your Momentica account approximately within 2 weeks after the event ends)

Holders of the 'Private TAKE' may receive special benefits when the new 'APOKI DROP' begins in the future.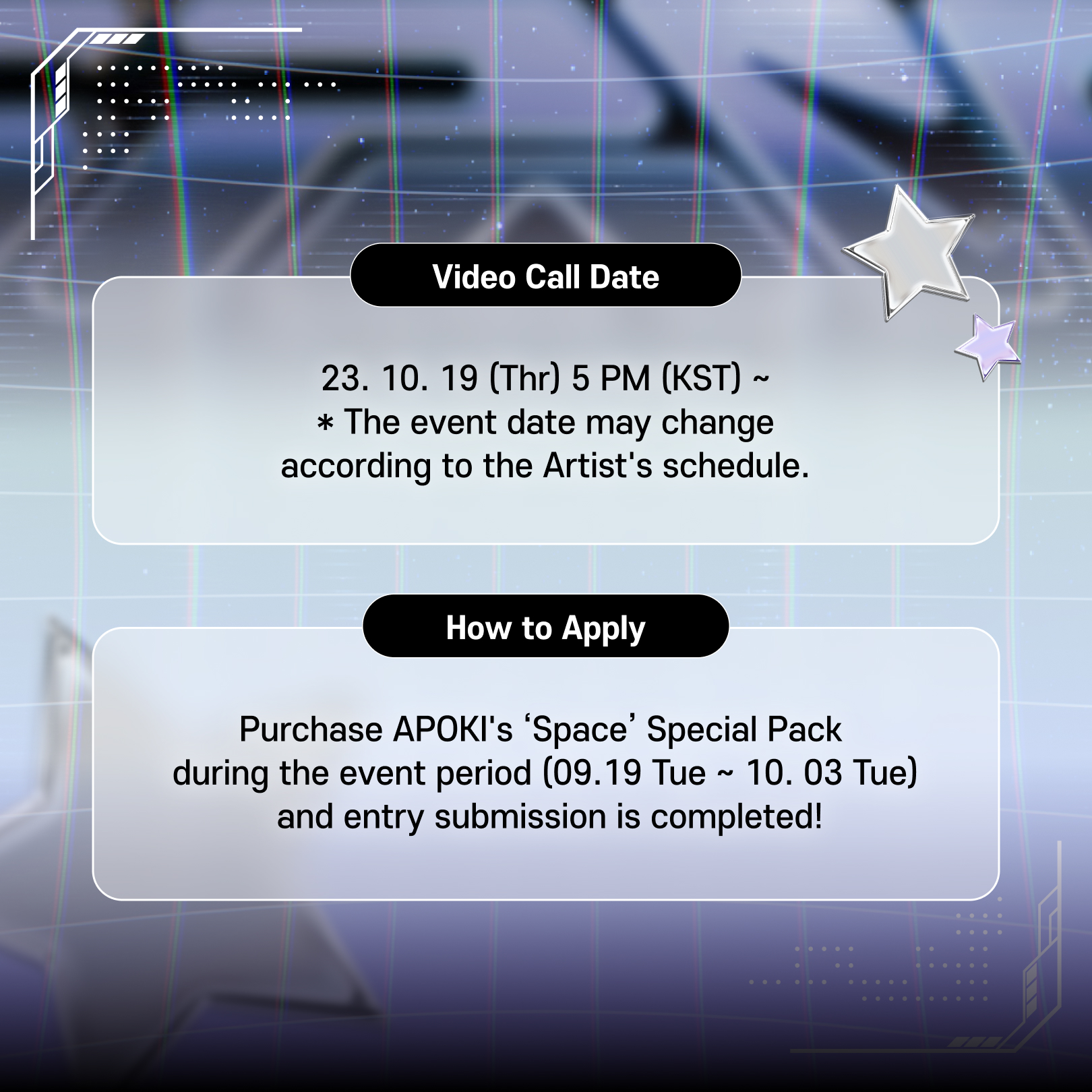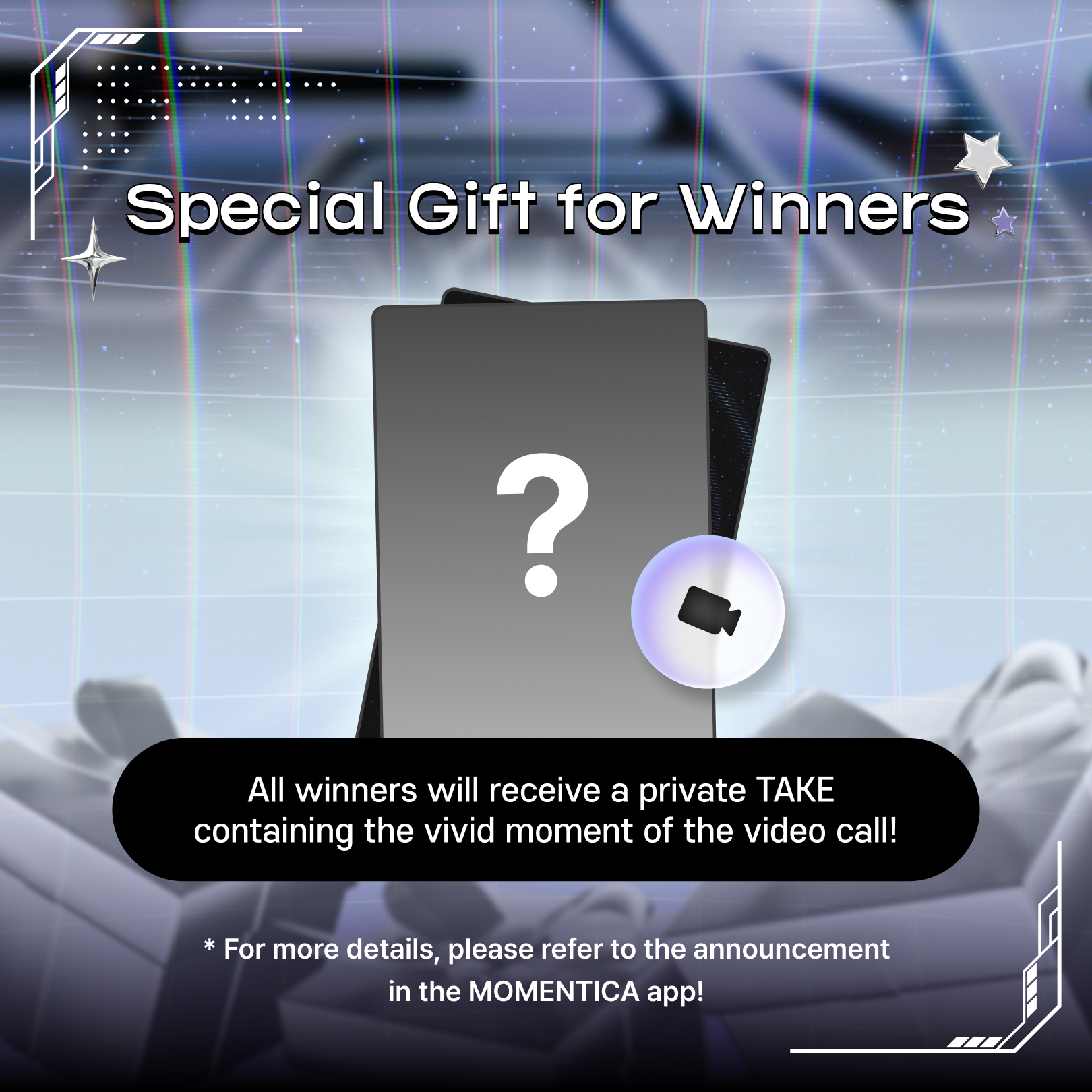 [Information on Application Process]
If you have purchased multiple Packs during the event period, the total quantity of your purchases will be automatically entered into the draw.
This event allows one win per person, and in the case of duplicate wins, only the first win selection will be awarded the prize.
Winners will be announced via the MOMENTICA Notice menu, and a separate e-mail will be sent to the winners of the event. Please be sure to check your inbox of the e-mail account used to register on MOMENTICA. If there is no accessible e-mail connected to your account, please connect to receive notice.
Inappropriate methods of participation will result in cancellation of winning results.
Users cannot participate in this event from countries or regions that do not support MOMENTICA.
MOMENTICA cannot be held liable for any incident that may occur due to negligence of event guidelines.
This event is subject to early termination or change in schedule.
Please contact customer support (momentica_support@levvels.com) for any questions regarding the event.
[Information on Video Call]
This event will be available to all winners of the Momentica event, and it will be conducted in Korean. If necessary, English and Japanese interpretation can be provided.
This event will take place on Discord.
Winners will receive guidance emails to the address associated with their social accounts registered on Momentica for pre-event information and personal information collection. If your email is not linked yet, please ensure it's connected to an accessible account (We kindly request a response within 3 days of receiving the winner notification email, and no further changes can be made after submission).
Five minutes before the event, we will send connection instructions via Discord. Please wait after receiving the message (Please note that the timing of video call connection may vary depending on the on-site situation).
During the video call, if you do not accept or abruptly end the call more than twice in your turn, it will be considered as non-participation, and further participation will not be allowed.
Changes in the order of video calls due to personal circumstances will not be accepted, so please be aware of the event schedule before participating.
To ensure smooth event proceedings, please refrain from initiating contact and inquiries to the event staff's Discord account. Please direct any related inquiries to the Momentica customer center, as sending unsolicited messages may result in participation restrictions.
A Momentica account verification process will be conducted before the event starts. Before the event begins, please download the Momentica app and submit a screenshot of your My Collection screen displaying your username via Discord (Momentica App > Collection tab at the bottom right).
Anyone who attempts to transfer or trade event rights will be excluded from all future artist related events.
If the winner's network connection is unstable or consistently interrupted due to their own network environment, the event may become difficult to proceed. Please check your network environment in advance. Please understand that it may be difficult to resume the event if the winner's network connection is lost.
The artist and the winner will conduct the video call event on a one-on-one basis, and if the designated time expires, the video call will end. If the winner does not end the call, it may be forcibly terminated by the event staff.
This event is only open to the winner personally, and if anyone other than the winner or two or more people, including the winner, participate, the call connection may be forcibly terminated.
During the event, please refrain from asking personal questions or making unreasonable requests to the artist. The call connection may be forcibly terminated based on the judgment of the on-site staff in cases of swearing, criticism, or inappropriate behavior.
To ensure smooth event proceedings, please keep the above precautions in mind, and in addition to the guidelines provided, there may be staff interventions if anything is deemed disruptive to the event.