Hello,
This is MOMENTICA, the ever-glowing moments of your beloved.
Get ready to experience exclusive, never-before-seen moments of TOMORROW X TOGETHER in "0 x 1, Digital World", available only on MOMENTICA. To bring joy to more people, we have prepared various events.
Decorate your TOMORROW X TOGETHER "0 x 1, Digital World" TAKE and show off your decorated TAKEs.
We are giving away a "Special Digital DECO KIT" filled with golden goodness that you can use in the MOMENTICA through a lucky draw! We hope all of the talented fans will join and participate in the event.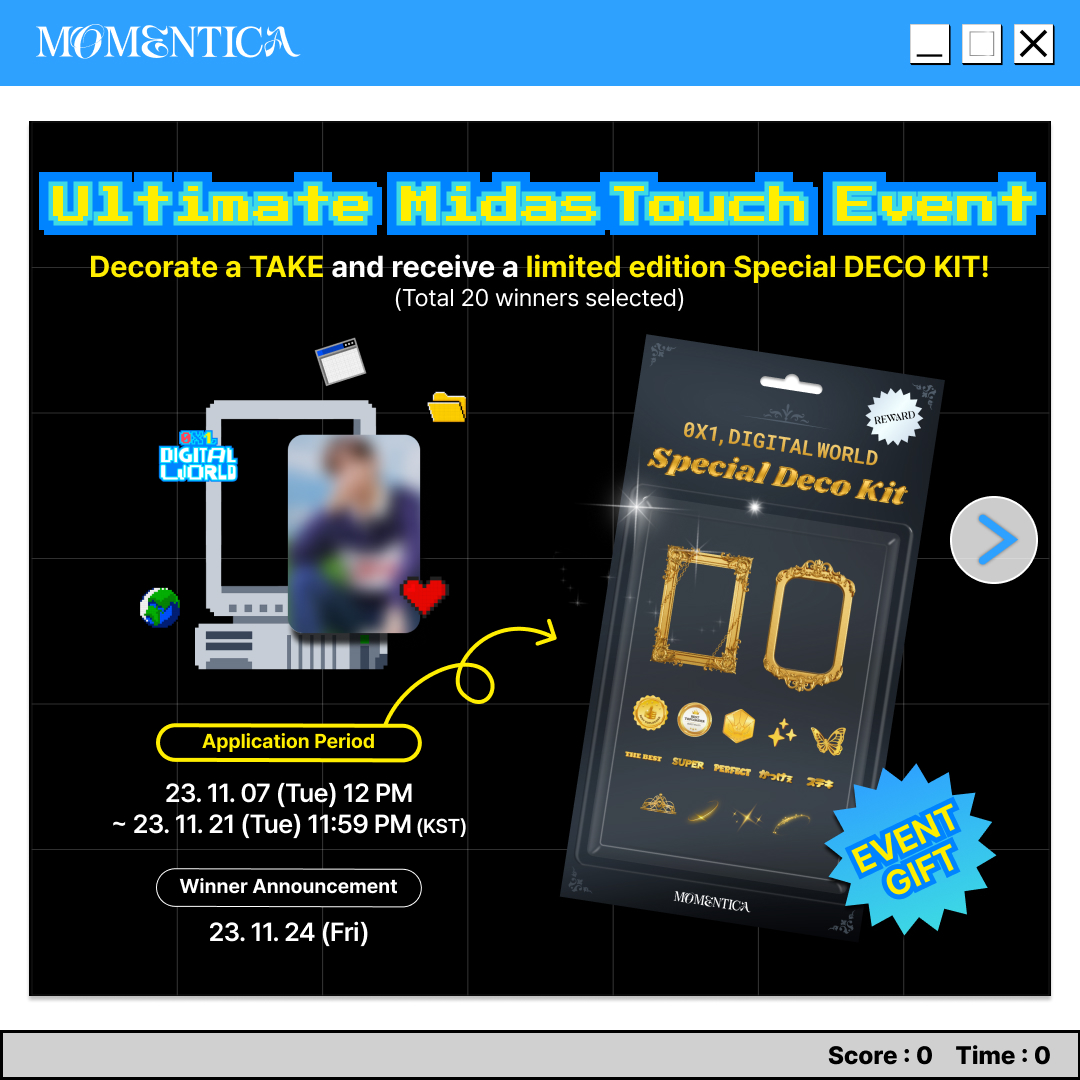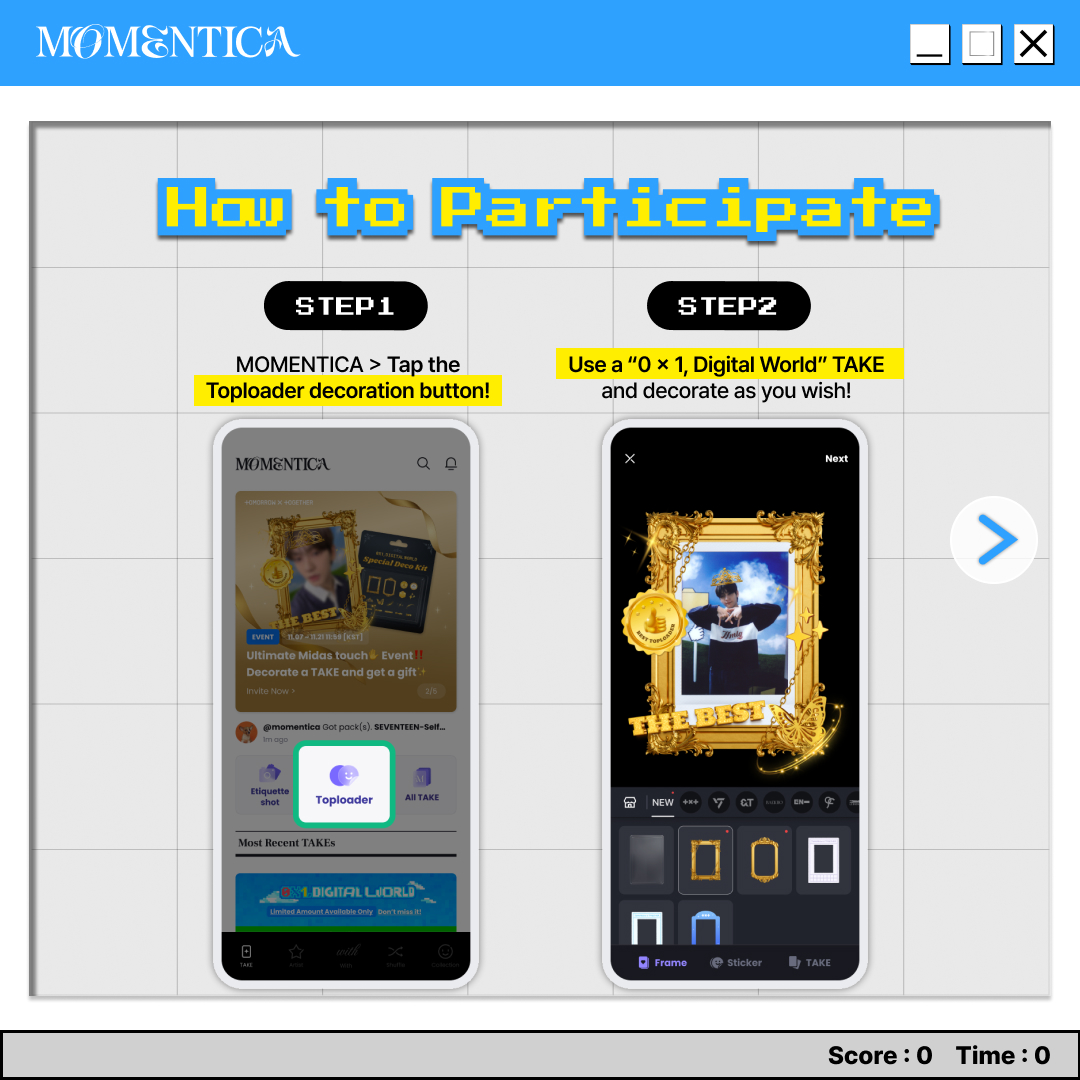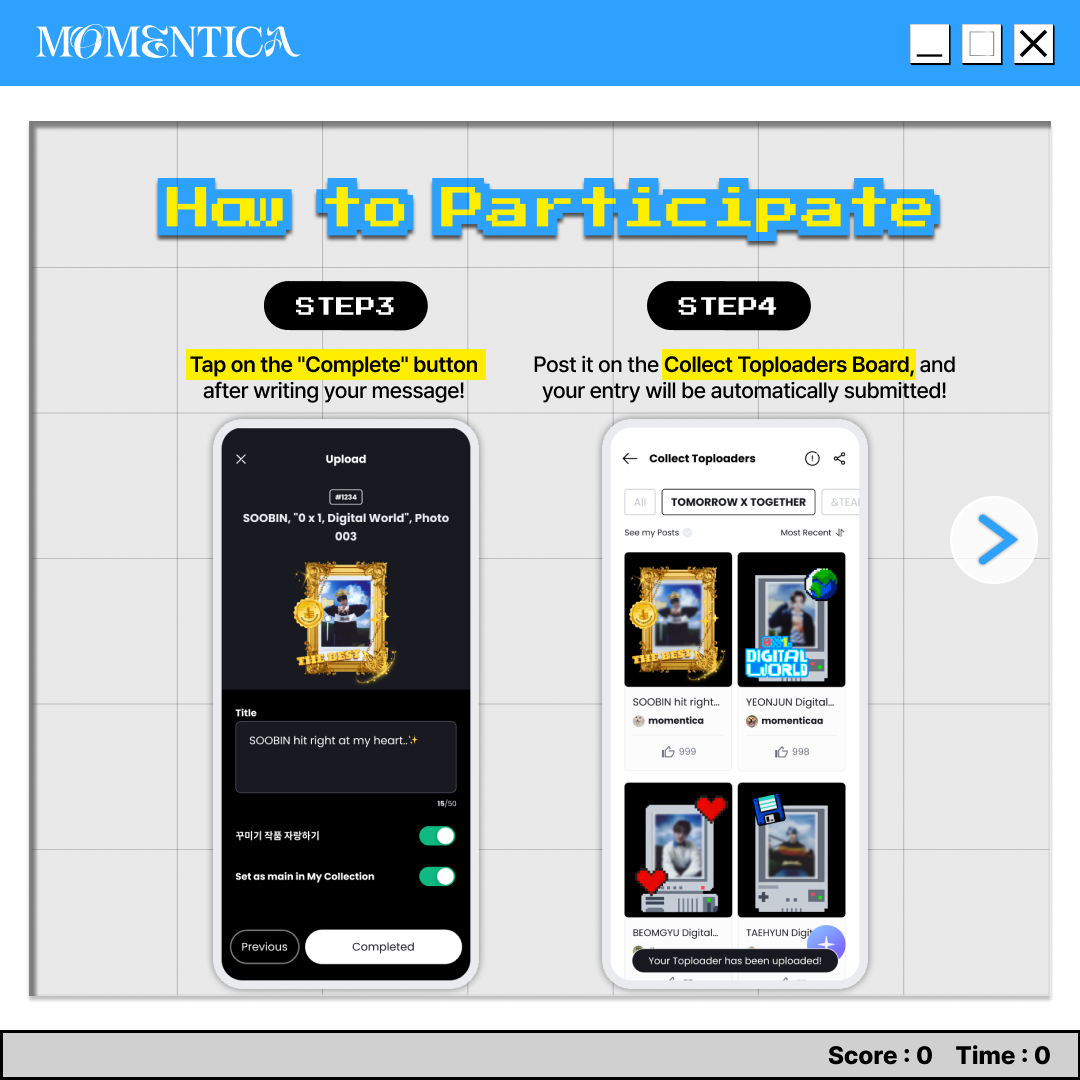 Event Participation Tips! Boost Your Winning Chances



Tip 1: Get creative with the "0 x 1 Digital World" concept, add Toploaders and Stickers to your TAKE.
Tip 2. Share and show off your TOMORROW X TOGETHER TAKE on social media with the hashtags #천하제일금손대회 #모먼티카 (#MidasTouch #MOMENTICA) The more likes on the MOMENTICA show-off board, the higher your chances of being selected!


Participation Period : 23.11.07 (TUE) 12:00 PM (KST) ~ 23.11. 21 (TUE) 11:59 PM (KST)
Winner Selection Method: MOMENTICA Pick! (No. of likes on the show-off board and social media participation will count)
Winner Announcement : 23.11.24 (FRI)
Winner Gift :

Midas Touch Special Digital DECO KIT

(20 winners)
[IMPORTANT]
Only posts uploaded to the show-off board using the paid version of TOMORROW X TOGETHER's "0 x 1, Digital World" TAKE will be eligible. (Participation with other TOMORROW X TOGETHER TAKEs, such as the Welcome Pack or previously released TAKEs, will not be allowed).

Inappropriate posts detected through accumulated report records and continuous monitoring may be deleted without prior notice.

Only posts uploaded during the event period will be considered for participation. If you delete a post before the end of the event period, you may be excluded from the draw.

Selected posts may be reused for promotional purposes within MOMENTICA and/or on other social media platforms.

The participant shall be held liable for any and all damages that are incurred by contents of the posting.

Consent to collect and use personal information is applied in accordance with the regulations of the Personal Information Protection Act.

Inappropriate methods of participation may result in penalties such as withdrawal or restriction of participation.

Users cannot participate in this event from countries or regions that do not support MOMENTICA.

MOMENTICA cannot be held liable for any incident or disadvantage that may occur due to negligence or lack of knowledge of the event guidelines.

This event is subject to early termination or change in schedule.

Please contact customer support (momentica_support@levvels.com) for any questions regarding the event.